Finish Strong: Resistance Training for Endurance Athletes
Thursday, December 2nd, 2021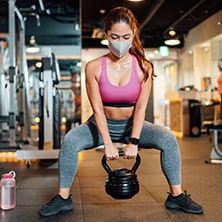 As 2021 winds down two members of the Seton Hall community are ready to "Finish Strong" with the release of their first co-authored book.
Seton Hall strength & conditioning coach Angelo Gingerelli and former athletic trainer and current associate professor Richard "RJ" Boergers collaborated on the book Finish Strong: Resistance Training for Endurance Athletes (Available from Bloomsbury Publishing). The book is the product of three years of concentrated effort and decades of experience training athletes and competing themselves to bring the methods they teach their students and employ in their own training to the masses.
SHUPirates.com recently got a chance to talk to the authors about the book and what readers can expect.
SHU: What is your role at Seton Hall and how did it prepare you to write Finish Strong?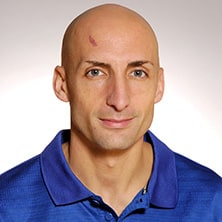 Angelo Gingerelli, strength & conditioning coach at Seton Hall since 2005
Angelo: I've been a strength and conditioning coach at Seton Hall since 2005 and over the course of 17 years I have worked with every team in the athletics department. I've always been writing programs and training our cross country and swimming teams, but it wasn't until around 2010 that I really dove into the endurance sports myself. Like most strength coaches, my background was in power sports like power lifting and Olympic weightlifting. I ran my first marathon in 2011, caught the "marathon bug" and really became a part of New Jersey's endurance sports community. This made me a much better strength coach because it gave me a better understanding of how endurance athletes train and what their body goes through on a day-to-day basis.
RJ: I'm an associate professor in Seton Hall's Master of Science in Athletic Training program. I've been in this role since 2011 but also worked as a clinical athletic trainer in athletics from 2000-2003. As an athletic trainer with a biomechanics background my content specialty area is related to injury prevention. The content of the courses I teach, combined with some of the lectures I've given to the endurance sports community merely needed to be converted into digestible content for the average endurance sports athlete. For me, triathlon is my passion and I thrive by living an endurance sports lifestyle. I've competed in IRONMAN events in Europe and the U.S. as well as countless shorter distance triathlons, running, cycling or swim races. When I first arrived back at Seton Hall in 2011 I even started a triathlon club. Between my years as an athletic trainer and years competing in endurance sports it was time to give something back to the endurance sports community that has been such a positive force in my life.
SHU: How did you two meet and how did the book happen?
Angelo: When I was training for my first marathon, RJ came back to Seton Hall as a professor and was training in the Rec Center and running around campus. We hit it off pretty quickly and soon we were lifting together in the weight room and going for runs around South Orange. One of the common conversation topics on our training runs would be the lack of knowledge about strength training in the endurance sport world. We would marvel at people that could ride a bike 100+ miles or swim in choppy open water but be terrified at the idea of a squat rack or lat pull down machine.
While these conversations were happening we both continued to lift weights as part of our training and were staying injury-free and competing at consistently higher levels. This led to the idea for the book and the desire to share this valuable info with more people.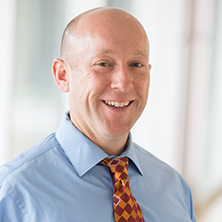 Richard "RJ" Boergers, associate professor in Seton Hall's Athletic Training program
RJ: When I came back to Seton Hall in 2011, I gravitated back to the Rec Center since I craved familiar surroundings with people I knew and a place I felt welcomed. I introduced myself to Angelo and the rest of the strength and conditioning staff and soon had some training buddies. When Angelo and I would train, I told him countless stories of triathlete friends that were sidelined with an injury and unable to make it to the finish line; and it frustrated me watching talented people not be able to compete. We discussed how frustrated we both were with the culture in endurance sports to neglect strength training and only focus on your sport discipline. We did things differently and with great results. Basically, it was time to preach what we've been practicing successfully for years.
SHU: What can readers expect from the book?
Angelo: Finish Strong is basically divided into two parts. The first part explains why athletes should add resistance training to their endurance sport training program. We get into the anatomy, physiology and training principles of why this kind of training is valuable. The second section delves into how to implement resistance training into the reader's schedule. We understand everybody is busy and people may be at different stages in their training or have access to different kinds of training equipment or have different goals. We cover as many bases as possible and give the reader multiple options and ways to incorporate resistance training into their lives.
RJ: Other books related to strength training for triathletes or for runners simply say - "Do these exercises…", without getting into strength training periodization around a competition season. We want the readers to form good habits like us and add strength training year round, and structure it appropriately. To do so, we've periodized the program: off-season, build and base, peak mileage and taper. Additionally, we've targeted the exercises for a runner, cyclist, swimmer and triathlete, so we've got all the endurance disciplines covered. There are over 68 training templates at the end of the book, so the person new to strength training could simply take that and execute it while the seasoned lifter could see how we've structured the workouts and potentially plug-in/swap-out certain exercises.
SHU: What was the creative process behind the book like?
Angelo: We initially discussed the book in the summer of 2018. By early 2019 we were pitching the book to publishers and had a few interested by the spring. We wrote the majority of the text during 2019 and had initially planned on a 2020 release. Obviously, COVID-19 happened and pushed our release date back by almost a year. However, with road races coming back, the holidays approaching and January being a great time to incorporate a new training modality, we think things worked out pretty well.
As far as our collaboration, I handled the majority of the information related directly to strength training, and RJ covered topics like injury prevention, running mechanics and mobility. We really worked together on the actual programs in the second part of the book. Strength coaches and athletic trainers really need to work together on a day-to-day basis in order to provide optimal care for student-athletes. I talk to Seton Hall's athletic training staff daily about how the weight room can either aid in recovery or help prevent future injuries, and I find these relationships to be incredibly valuable. Oddly enough, there are not many platforms (books, social media accounts, YouTube channels, etc.) that combine the two disciplines the way we did on Finish Strong.
SHU: Where can we find out more about the book?
Angelo & RJ: We're on Instagram at @Finish_Strong_Book and the book is available now at Amazon. Check it out and if you want to go for a run and talk about it Angelo is always open for a loop around South Orange and RJ will definitely meet you for a trip around the IHS campus.
Categories: Athletics