Uploading Your Vaccine Info, Omicron Variant
Thursday, December 2nd, 2021
As previously reported we are now launching an expanded collection of vaccination verification, in compliance with the Biden Administration's COVID-19 Workplace Safety: Guidance for Federal Contractors and Subcontractors.
Faculty, students, staff and administrators should now upload their vaccination information.
The deadline for uploading information is close of business January 14, 2022.
Students who have already uploaded their information to the student health portal and have had their information verified do not need to do so again.
You may also be prompted to upload your information when signing on to PirateNet. Please note there is a delay between your upload and our review; if you uploaded your card and get a prompt in a subsequent login to PirateNet, choose the option that indicates you already uploaded your information.
Unvaccinated individuals must declare a medical or religious exemption.
Those who do not upload their information or declare an exemption by the January 14 deadline may have access to PirateNet and related systems denied.
Thank you for your cooperation in our work to keep ourselves and each other healthy. If you have questions, comments, or suggestions, please contact the HICT here.
Omicron Variant Concerns Health Officials
The arrival of the Omicron variant is being closely watched. The state's transmission rate remains above 1, and cases are increasing. We are monitoring public and University health statistics, and government guidance.
You can read more at:
Booster Shots Are Available; Get One
The State of New Jersey notes that everyone 5 years or older is eligible for a COVID-19 vaccine in New Jersey and is encouraged to get vaccinated as soon as possible.
Vaccines are widely available – at pharmacies, hospitals, health facilities, and other locations. See where you or a loved one can find a vaccine appointment at covid19.nj.gov/finder.
Flu Season Arrives; Get a Flu Shot
Officials are anticipating a stronger than usual flu season, given last year's almost nonexistent spread. Like COVID, your best defense is to get vaccinated. Health Services provides flu vaccinations for students. We strongly encourage you to get a flu shot.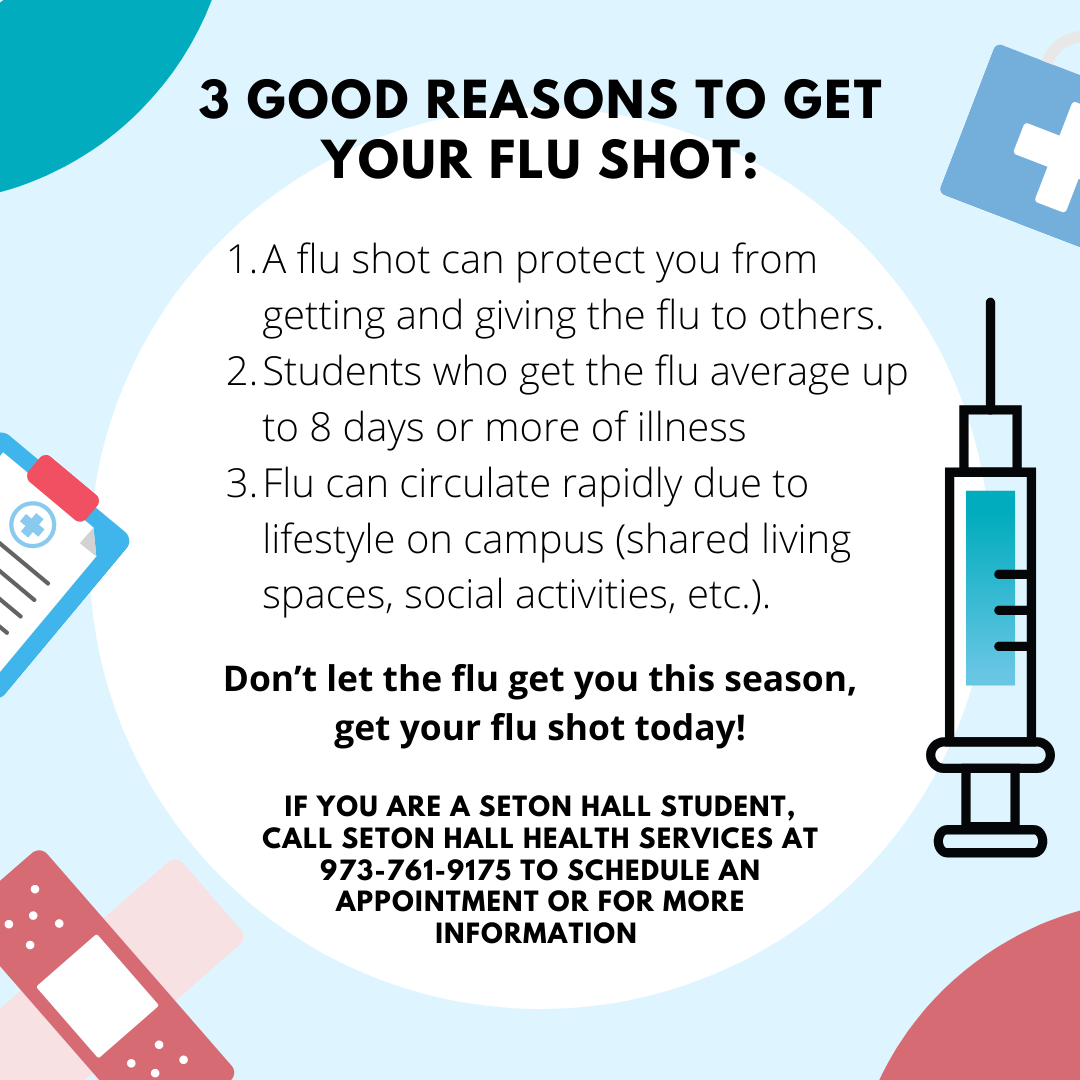 University Update
As of December 1, the five-day moving average of positive cases is at 1.4
0 on-campus quarantine and isolation beds are occupied.
There are 11 individuals in isolation.
The entire campus community has a vaccination rate of 90.5% with 98% of those fully vaccinated. We are particularly grateful to our students, faculty, and staff for doing their part; through their efforts, we have a highly vaccinated University community.
This is all good news; however, with the holidays and colder weather, we remain vigilant and prepared should cases rise.
Testing Available Through Health Services
The University is following CDC and State of New Jersey testing guidance, and Health Services has an ample amount of testing supplies. Students (vaccinated and unvaccinated) may request to be tested for COVID-19 as frequently as once per week.
You can learn more about testing availability off-campus at How To Get Tested For COVID-19 In New Jersey.
Your health and safety remain paramount in Seton Hall's planning and actions. If you have questions, comments, or suggestions, please contact the HICT here.
Sincerely,
Matthew Borowick
Vice President of University Relations
Co-chair, Health Intervention and Communication Team
Monica N. Burnette, Ph.D.
Interim Vice President, Division of Student Services
Co-chair, Health Intervention and Communication Team
Categories: Health and Medicine