Inside The Core Welcomes Gregory Floyd of ICSST
Monday, February 27th, 2023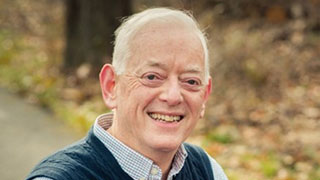 Inside the Core this week, we are excited to announce our first Scholars Forum in the Catholic Intellectual Tradition series for the spring semester of 2023. On Wednesday March 1, the Core will be excited to present Gregory Floyd, Assistant Director of the Center for Diaconal Formation at Immaculate Conception Seminary School of Theology at Seton Hall University, presenting on his book Unforgettable: How Remembering God's Presence in Our Past Brings Hope to Our Future (Paraclete Press, 2022). This program is co-sponsored by the Catholic Studies Program, the Catholic Studies Center, Immaculate Conception Seminary School of Theology, as well as the University Core.

This book is deeply personal, as described on the book's website: "Beginning with a single word he heard in the middle of the night—one that changed his life—this powerful memoir by Gregory Floyd asks the question: without memory, who are we? It is a meditation on beauty, marriage, family, and prayer, asking of the memories that each implants: what do they reveal? Where do they lead? —and witnessing to their potential to draw us to God." Using references to Scripture, poetry, and personal memories, Floyd invites the reader into his own lived experience with God, who continues to lead and inspire him.
Prior to working at Seton Hall, Floyd served as a missionary in England and Ireland, and as a director of Legatus, an international organization of Catholic business leaders and executives. Gregory and his wife, Maureen, are the parents of nine children and are parishioners at Our Lady of the Mount in Warren Township, NJ. His previous book, A Grief Unveiled: One Father's Journey through the Loss of a Child, was a Catholic bestseller. His son, Gregory P. Floyd, is a Core Fellow in the University Core.
The book has been extremely well received, as these quotes illustrate:
"Gregory Floyd has fashioned a fine spiritual memoir, tracing how one man could hear the call of Jesus as a teenager, and strive to answer that call as a student, husband, father, believer. Unforgettable is just that, helping us to see how we can come to know, love, and serve God through the everyday ups and downs of our lives." —Cardinal Timothy M. Dolan, Archbishop of New York
"Unforgettable is beautifully written, emotionally wrenching, and important." —Ron Hansen, novelist, Mariette in Ecstasy
"Beautifully written, lyrical, poetic, yet lucidly clear. Deeply personal yet of universal interest. Profoundly insightful and humbly honest. Culturally sensitive. A beautiful work of memoir, testimony, and spirituality." —Ralph Martin STD, Director of Graduate Theology Programs in the New Evangelization, Sacred Heart Major Seminary, Archdiocese of Detroit.
Please join us for an inspiring evening of personal and spiritual insight. We will meet, as always, on TEAMS at Click here to join the meeting.
To get a copy of Floyd's book, please click here.
We in the Core are very grateful for all our faculty scholars who have made this series possible. Other Scholars' Forum events will be coming up. Please stay tuned to Inside the Core for updates.
Categories: Faith and Service