Registration for Winter Session 2024 Opens November 6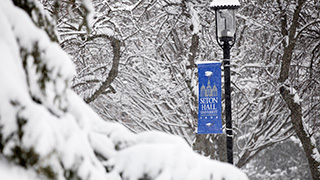 Seton Hall is proud to announce its courses for Winter Session 2024. Whether you want to free up your spring, accelerate your graduation date, or squeeze in an elective between semesters, Winter Session at Seton Hall is the perfect opportunity. Courses will run January 3-16, and enrollment is open to current Seton Hall students and visiting students. In observance of the Martin Luther King, Jr. Holiday, no Winter Session class meetings will be scheduled on January 15.
Registration begins November 6, 2023, and ends January 4, 2024. Students enrolled in the Winter Session may choose one, three (3) credit course.

Winter Session undergraduate tuition will be at the standard 2023-2024 rate of $1,490 per credit, plus a registration fee of $75. Please note that Winter Session is an independent session and is not part of spring registration or tuition.
Additional financial aid is not available for students in this program. Students cannot file the FAFSA nor receive federal or state aid which includes student or parent loans.

Courses are scheduled in the following departments. Additional courses may be added throughout the fall. Students may view the list of winter courses here.

• Art and Design
• Anthropology
• Art History
• Asian Studies
• Biblical Studies
• Biology
• M.B.A. Core classes
• Catholic Studies
• Chemistry
• Criminal Justice
• English
• History
• Human Resource Development
• Philosophy
• Physics
• Psychology
• Religious Studies
• Sociology
• Social Work
• Women's Studies
Get your new year started on the right track! Visit the Winter Session website for registration information, course descriptions, frequently asked questions, and more.
Categories: Education