Let There Be Light with iTHIRST Program
Wednesday, January 18th, 2023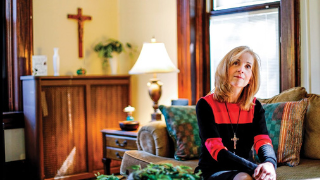 The program is led by Keaton Douglas, alumna of Seton Hall and founder and executive director of the iTHIRST initiative.
The iTHIRST Spiritual Companionship Certificate training program returns to Seton Hall Spring 2023, from February 21 through April 18. Offered by the Division of Continuing Education and Professional Studies, sessions will run every Tuesday and Thursday, 6:30 p.m. to 9:30 p.m.
The iTHIRST program provides faith-based education for those who suffer from substance abuse and those who wish to be trained and support those who suffer. According to a study by the Religious Freedom and Business Foundation, "At any given time, there are 20 million Americans afflicted with a substance use disorder (SUD). And tragically, each year, about 158,000 die from alcohol or drug-related deaths.  However, one of the most effective tools to prevent and/or recover from addiction is often overlooked— faith. And when it comes to long-term recovery, faith-based programs are a driving force."
The Program seeks to provide a spiritual remedy for the desolation, abandonment and guilt that are all "hallmarks" of the addicted life through specialized programs that students are trained to develop and implement. The iTHIRST Program also aims to provide support for treatment facilities and those incarcerated, and to develop an aftercare community for the afflicted and their families.
Through the program's outreach, those in withdrawal management, long-term treatment and those who are incarcerated encounter the concept of spirituality as a necessary dimension of wellness. They have the opportunity to develop a spiritual 'roadmap' that enables them to find a Higher Power, even in the midst of their struggles – and allows it to change them.
Upon completion of the program, students will be able to offer spiritual consolation and recovery resource information to the afflicted and their families, as well as work with their pastors to develop or supplement a recovery ministry that fits the needs of their parishes. Academically certified through both iTHIRST and Seton Hall University, participants who successfully complete the program are eligible to receive 4.8 Continuing Education Units.
 The program is led by Keaton Douglas, alumna of Seton Hall's Immaculate Conception Seminary School of Theology and founder and executive director of the iTHIRST initiative, which is an acronym for "The Healing Initiative—Recovery, Spirituality and Twelve steps." The initiative seeks to give people in recovery the spiritual tools they need to stay clean and lead the faith-based fight against substance-use disorders, especially opioid addiction.
The iTHIRST curriculum has been taught in the Archdiocese of Boston at the behest of Cardinal O'Malley's Opioid Task Force; to seminarians in Heredia, Costa Rica; and at the Shrine of St. Joseph in Stirling, New Jersey. iTHIRST in collaboration with SHU has trained individuals in 12 different states, and internationally, bringing spiritual consolation and recovery resource information to individuals throughout the US and in Ireland.
What participants are saying after completing the program:
 The iTHIRST Program has exceeded my expectations. So relevant for our times when many people, families and communities are impacted by addiction whether from substance abuse, video gaming, gambling and many other unhealthy attachments. The program offers a unique scriptural approach based on the successful 12 Step Recovery Program. - Nancy H., Boston, MA.
After many years working with inmates, I realized that to be more effective I needed to know more about addiction and those addicted. iTHIRST came along at just the right time. It will not only support my prison work but will allow me to help establish a recovery ministry in my parish, serving the formerly incarcerated and their families, along with the parish and surrounding communities. - Paul K., Duxbury, MA.
…The program has been a blessing for my spiritual growth and ability to give back to my parish and quench the thirst of the afflicted and their families. - Mark P., Andover, MA.
About iTHIRST Spiritual Companionship Program
The iTHIRST initiative empowers dioceses, parishes and communities to become a resource for those suffering from addictions and their families. At the heart of iTHIRST is an understanding that there is a spiritual dimension to the disease of addiction that cannot be met by clinical professionals, but only by the spiritual consolation and guidance that the Church can provide.
iTHIRST is an initiative of the Missionary Servants of the Most Holy Trinity a religious community of priests and brothers who serve the poor and abandoned.
Please visit the iTHIRST Spiritual Companionship Certification Training Program page to register.
Categories: Education, Faith and Service