CPA Apprentices Network at NJCPA, Meeting Professionals from AICPA and Becker
Thursday, October 26, 2023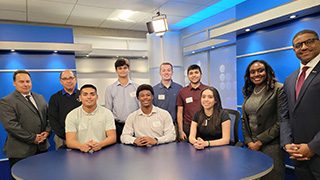 As part of the new CPA Pathway Apprenticeship pilot program, in partnership between Seton Hall University and Withum, students met with the leadership of the American Institute of CPAs (AICPA) and the New Jersey Society of CPAs (NJCPA).
AICPA is the international organization that serves the CPA profession in the United State and the larger public interest. The NJCPA serves the needs of CPAs, accounting professionals and students in the State of New Jersey.
On October 4th, 2023, students, program faculty, and staff met and networked with NJCPA and AICPA leadership. "I think that the program is an extraordinary way for our students to enter the field of public accounting," said P. Jeffrey Christakos, M.B.A., CPA, CFP®, Professor of Accounting and Wealth Management at Seton Hall University. "I believe that our meeting at the NJCPA offices with national and state leadership, AICPA and NJCPA, solidified the connection between the highest levels of our profession and their work at Withum."
Students participating in the CPA pilot program observed NJCPA's IssuesWatch Live, a series of broadcasts, videos and podcasts that report on legislative, regulatory and national issues affecting CPAs and businesses in New Jersey.
After which, AICPA Chair Okorie Ramsey joined the students for lunch. "One of the most critical issues facing the accounting profession is its next generation. I had a very engaging discussion with six participants of the Withum/Seton Hall University CPA Pathway Apprenticeship Program," said Ramsey. "Apprenticeships are a wonderful way for students to learn what it means to be an accountant through practice versus theory. Initiatives like this also help to build a more inclusive profession by alleviating barriers for students considering a career in accounting and finance."
One student, Daniel McBratney, explained, "It was an incredible experience at the NJCPA, meeting Susan Coffey, Aiysha Johnson, and the AICPA chair Okorie Ramsey. I learned so much and feel inspired to pursue the CPA."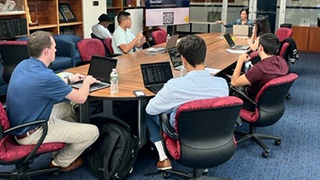 To continue the day, students reported back to Seton Hall University's South Orange campus to meet with Becker Professional Education, one of the nation's leading companies in CPA review preparation, reviewing the requirements to sit for the CPA Exam, learning more about the four parts of the exam and developing a strategy for success.
"What truly sets us apart is our team's strong commitment to being a comprehensive resource, offering personalized attention to our university partners and their students," said Jackie Oblinger, Account Manager at Becker CPA. "I find great gratification in working with students to ensure they are fully informed of all the steps involved with a review of educational requirements, the application process and study strategies, as well as how Becker tools can be used to be successful on the CPA exam. It's with this attention that students preparing for the CPA exam and the accounting profession feel empowered and ready to begin their journey."