100 Black Girls Go to Yale
Wednesday, August 2nd, 2023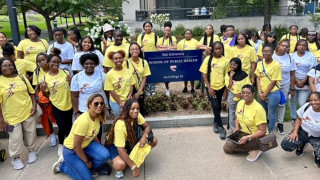 A hundred Black girls, students from Newark, East Orange and Hillside, NJ, traveled to Yale University
A hundred Black girls, students from Newark, East Orange and Hillside, New Jersey, traveled to Yale University as part of the Be the Changemakers program which was hosted again this year by Seton Hall University and is part of the expanded East Orange Summer Work Experience Program.
The trip to Yale, which was themed "You Belong in the Room," was sponsored by the East Orange Mayor's Office of Employment and Training, the Newark Office of Violence Prevention and Trauma Recovery and the Hillside Innovation Academy.
Black Girls Go To Yale was led by Yale School of Public Health Professor Ijeoma Opara through her Dreamer Girl Project, an NIH funded initiative designed to empower and support young Black girls in their pursuit of higher education and well being; Dr. Jamila T. Davis, the Community Practitioner in Residence for Seton Hall's Center for Community Research and Engagement and Angelo Pinto, Esq., Community Activist in Residence at the Yale School of Public Health and an adjunct professor at Seton Hall's Public Administration program. Davis and Pinto lead Be the Changemakers.
At Yale, the students were welcomed and led by Yale student guides for a campus tour and took part in motivational and affirmation workshops with a number of successful Black women.
Dr. Kelly Williams, the Director of Educational Support Services and Parent Relations for the East Orange School District, gave each girl a set of her affirmation cards, "The ABC's of Social Emotional Learning for Black girls," and challenged the young women to "go after your dreams and know that you belong in any room you choose to enter."
Dr. Opara recounted for the young women her own journey as the child of Nigerian immigrants who lived in Jersey City, New Jersey – and how both her parents died from disease by the time she was 23 years old. "I brought you here today because I want you to know that you can do it," she told the young women. "I did it. My mother died when I was 17 years old and my father died a few years afterwards. It made me want to understand the dynamics and disparities of public health; understand why my parents passed so young; understand why Black people in America die younger and at greater rates than white people. And now, with these NIH grants and the Dreamer Girl projects we're working on answers – and solutions. And you, the next generation of Black women's success, are part of that solution."
Also supporting the young women were Shauyn Walker, Clerk of the Court for Hillside, NJ; Dawn Haynes, President of Newark Board of Education School Board; Flo Johnson, former Vice President of the Newark Board of Education School Board; Linda Baraka, entrepreneur and the wife of Newark, New Jersey Mayor Ras Baraka; Lieutenant Quiana Brown, Hillside NJ police department and Tamika McReynolds, President of Teen Magazine.
As part of the Summer Work Experience Program, the young women will be writing about their experience and their experiences in the program this summer for an upcoming edition of Teen Magazine.
"Today was important. This society generally doesn't count Black girls except to count them out," said Jamila T. Davis "But we're counting, and we're inviting these 101 girls – Linda Baraka brought the her infant baby girl on this trip -- into our Sister Girl Tribe of success. And this day, and the days of achievement that will now follow, is Black Girl magic at its finest."
Lat year, 50 Black girls went to Yale, this year 100 (plus one) made the trip. Looking ahead, Dr. Opara has set an ambitious goal: 1000 Black girls to Yale next year.
In addition to touring Yale University, students from the East Orange Summer Work Experience Program have also toured Seton Hall University and Essex County Community College.
"We were pleased to be able to again host the Summer Work Experience Program at Seton Hall and help open doors for these students because we know firsthand the power of higher education to change lives and empower," said Dr. Mary Kate Naatus, Assistant Provost and Dean of Continuing Education and Professional Studies at Seton Hall. "Seton Hall is honored to be able to host these important initiatives that improve social equity and empower people. The University is proud to be an agent of social mobility and appreciative of Dr. Davis' leadership in this collaboration."
Categories: Education