G.K. Chesterton Institute - Español
Instituto G.K. Chesterton para la Fe & Cultura
Sobre el Instituto
El Instituto G. K. Chesterton para la Fe & Cultura basado en Seton Hall University en la ciudad de South Orange, NJ.
La misión del Instituto es promover el pensamiento de G. K. Chesterton y de su círculo y también explorar la aplicación de las ideas Chestertonianas en el mundo moderno.
Trabajo del Instituto
El trabajo del Instituto es el de:
recuperar a traves de Chesterton la tradición que Chesterton representa
re-despertar a imaginación moral y sacramental
la renovación del sentido de la dignidad humana
la re-evangelización de la cultura
y el regreso a una sociedad sana
El Instituto realiza esta labor a traves de sus publicaciones e investigación y la organización de conferencias, y simposiums en los Estados Unidos y alrededor del mundo en colaboración con organizaciones e instituciones que comparten este interés.
The Chesterton Review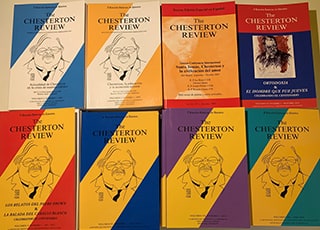 The Chesterton Review ha publicado 8 números de la revista en español, los que están disponibles en formato electrónico en Philosophy Documentation Center (Estados Unidos y Canada) y Ediciones Encuentro (España y el resto del mundo).
Le invitamos a revisar este enlace donde encontrará información del contenido de los volúmenes 1 al 8.
Para subcribirse a la edición en español y adquirir volúmenes anteriores, le invitamos a presionar aquí.