Thursday, September 17, 2020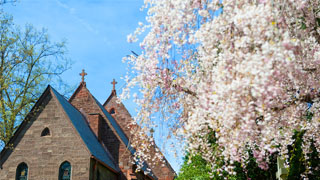 On Thursday, October 8 at 4 p.m. Seton Hall University's Catholic Studies Program, in cooperation with the Commission on Christian Unity of the Archdiocese of Newark proudly presents, Ecumenism today: How Far We've Travelled and the Road Ahead with Dr. Susan K. Wood, SCL, Vice President, Academic Dean & Professor of Systematic Theology at Regis College – Toronto.
Join Microsoft Teams Meeting
+1 908-512-7307 United States, Elizabeth (Toll)
Conference ID: 193 455 889#
About the Lecture:
The Catholic Church has been deeply involved in the modern Ecumenical movement since Vatican II. Dr. Susan K. Wood, SCL has participated significantly in that movement for many years. She serves on the International Lutheran Catholic Commission on Unity, the International Baptist – Catholic conversations, and has participated in theological consultations sponsored by the Faith and Order Commission of the World Council of Churches. She has also taken part in the North American Roman Catholic – Orthodox theological consultations, and the U.S. Lutheran – Catholic dialogue. She participated in and helped prepare the historic event in Lund, Sweden in 2017 when Pope Francis and leaders of the Lutheran World Federation together commemorated the 500th anniversary of the Reformation.
About the Speaker:
A former President of the Catholic Theological Society of America, Dr. Wood has published numerous articles and books, and is an Associate Editor of Pro Ecclesia.
In this lecture, with her extensive experience in ecumenism, Dr. Wood evaluates progress made toward Christian Unity and the journey still to be undertaken.
About Catholic Studies:
The Catholic Studies program at Seton Hall University offers an innovative, interdisciplinary curriculum for students of any creed who are interested in deepening their knowledge of Catholicism's rich intellectual tradition and living heritage. Combining the study of history, philosophy, theology, literature, art, sociology, and other disciplines, Catholic Studies focuses on the Church's dialogue with culture and encounter with the world. Students interested in Catholic Studies have the option to pursue a major, minor, or certificate that complements and enhances the university's other degree programs and fields of study. Over 20 years the academic program and its variegated activities have stayed true to and fulfilled the Catholic mission and vision of the University. For more information, please contact Dr. Ines Murzaku at Ines.Murzaku@shu.edu or (973) 275-2808, and Gloria Aroneo at Gloria.Aroneo@shu.edu or (973) 275-2808.
Categories: Arts and Culture , Faith and Service