Preparing for the Fall 2023 Career Fair
Monday, September 18th, 2023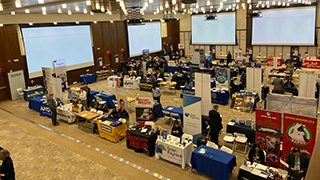 The Seton Hall Career Center is holding its annual Fall Career Fair on September 21st from 4–6 p.m. in Bethany Hall. Nearly 90 companies will be present ranging from global organizations, non-profits, and local and state government offices. Students will be able to meet and speak directly with recruiters to learn more about job and internship opportunities they are currently hiring for. The Career Center offers various resources for current students to help prepare for the event.
Resume Help:
Career Advisors are available to help you create or revise resumes before the event. Meetings can be scheduled through Compass or visit an advisor during their drop-in hours. The Career Center will also be tabling on the green or in the UC daily from 11 a.m.-2 p.m. from 9/11 until 9/20.
What to Wear:
Professional attire is recommended for attending to make a good first impression. If you need an outfit, Pirate's Closet is available for students to borrow clothing such as button-downs, dresses, dress pants, and ties at no charge. Requests can be submitted online. Pirate's Closet is found in the Career Center's office on the second floor of Bayley Hall.
Self-preparation:
Preparing for the event can look different for everyone. Elevator pitches are great quick ways to introduce yourself, your work and academic experiences, and interests. The Career Fair is an opportunity for companies to learn about you and to find out more about them. Prepare questions to ask about their work opportunities or their line of work. Make sure to bring copies of your resume so that you can give them to recruiters. Bring a notebook, pen, and folder with you when you attend. It will help carry handouts and business cards and write down information.
Career Fairs are a fantastic way to talk face-to-face to employers about current job postings, their experience at the company, and to make connections. Students interested in attending can RSVP to the event, find a complete list of participating employers, and what positions they are hiring for on Handshake. Although the Career Fair lasts only one day, Seton Hall Career Center and its resources are available to students all year long.
Check out footage of the Spring Career Fair here>>
For more information on the Career Center's resources and events, check their Instagram, website, and Engage page.
Categories: Campus Life