Women Innovators and Changemakers: Alumnae Success Stories
Wednesday, March 15th, 2023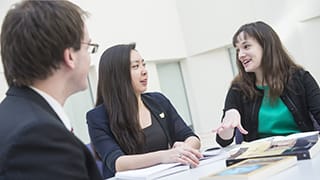 Please join us for a lively and engaging virtual lecture panel discussion on Thursday March 23 at 6 p.m. "Women Innovators and Changemakers: Alumnae Success Stories" will feature three dynamic women graduates of the School of Diplomacy whose unique and diverse efforts foster global sustainability.
All students and faculty are invited. To register, please click here.
Wendy Ekua (W.E.) Da'Cruz M.A./M.P.A. '15, is the cofounder of the Virtual Global Consultant Group, a global IT company that helps entrepreneurs, companies and organizations in Africa and elsewhere adopt digitalization to access new revenue and value-producing opportunities. A serial entrepreneur, Da'Cruz is also the co-founder of Cruz Burgers, plant-based burger patties made with mushrooms.
Rehana Nathoo, M.A. '11, is the founder and CEO of Spectrum Impact, a consulting firm that helps organizations expand their impact investing footprint. She is also an Adjunct Assistant Professor at Georgetown University and serves on the Boards of TortoiseEcofin, Grantbook, and Amplify Capital.
Susana Grau Batlle, M.A. '07, is the founder of a luxury jewelry brand that is anchored in ethical practices called Susana Grau Batlle for Body, Heart and Planet. The brand pays tribute to the earth, its creation, and its feminine force and soul. A portion of the company's profits go to different organizations that protect the planet and its people. She also currently serves as an international cooperation specialist covering several countries of the South America continent, supporting environmental activities that conserve biodiversity, combat deforestation, and improve natural resource management.
The event is being sponsored by the Stillman School of Business, the Buccino Leadership Institute, the Entrepreneurship Club, Women in Business, the Women of Diplomacy Leadership Program and SHU's Girl Up chapter. Pranali Jain, co-president of the Women of Diplomacy Leadership program, will serve as a student moderator of the event, along with other student leaders.
"I can think of no better way to celebrate Women's History Month than to hear from these amazing young women, who are already creating positive societal impact in very different ways. I look forward to hearing their inspiring stories!" says Joyce Strawser, Dean of the Stillman School of Business, who will also be providing welcome remarks.
Elizabeth Halpin, Associate Dean to the School of Diplomacy and International Relations, Acting Director of the Buccino Leadership Institute, and Associate Director of the H&M Roman Diplomacy and International Relations Leadership Center, states "The School of Diplomacy is thrilled to collaborate with the Stillman School and the Center for Innovation and Entrepreneurship to share the important work of some of our most distinguished alumnae who have carved out a unique space in the field to make an impact globally."
Please see more information below about our panelists.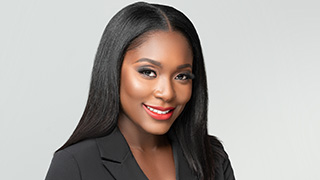 Wendy Ekua (W.E.) Da'Cruz M.A./M.P.A. '15
Known as The Digital Diplomat™, Wendy Ekua (W.E.) Da'Cruz promotes the adoption of digitalization to help drive economic development. Awarded the 2021 Minority eCommerce Firm of the Year by the U.S. Department of Commerce MBDA, she is the cofounder of the Virtual Global Consultant (VGC) Group, a global IT company that helps entrepreneurs, companies, and organizations adopt digitalization to access new revenue and value-producing opportunities.
Through the use of digital tools and technologies, she and her partner Naomi Cook are responsible for helping to generate millions of dollars a year in at-will donations and business sales for VGC clients, with a special focus on U.S. and African-based companies. As an internationally recognized tech expert and thought leader in her field, she's been invited to speak at high level events, such as the U.S.-Africa Business Summit (Mozambique), World Export Development Forum (Ethiopia), Africa Fintech Summit 2019 (Ethiopia), and DHL eCommerce Conference (Ghana). She is a part of the U.S. Embassy Speakers Program and has led a virtual masterclass for the Academy of African Women Entrepreneurs (AWE) in Uganda, Kenya and Rwanda, and an in-person training for the U.S. Embassy Pretoria – to name a few.
Appointed by the White House's U.S. Secretary of Commercial Services to the District Export Council in eastern Michigan and At-Large Board Member for the national association, she continues to promote global entrepreneurship worldwide. Most recently, she was selected as part of the 2023 class of the U.S. Global Leadership Coalition (USGLC) Next Generation (Next Gen) Global Leaders Network and will ultimately become a member of USGLC's State Advisory Committee upon completion of the year-long program.
She's previously secured more than $30K in grant funds to travel to countries such as Malawi, Uganda and Ghana to teach digital technology to entrepreneurs.
W.E. also serves as an International Consultant. For example, she developed and delivered an online training course on technology and innovation for African businesses in addressing the impact of Covid-19 for the United Nations Economic Commission for Africa.
As The Digital Diplomat, her current research topics and interests include the impact of Web 3.0: NFTs, cryptocurrency, metaverse, virtual reality and blockchain to facilitate economic growth in the U.S. and Africa. Her mission is to train brigades of Digital Diplomats to help governments and institutions develop policies that strengthen the positive impact of digitalization globally.
She launched The Mushroom Angel Company with her husband during the pandemic. They produce meat alternatives made from mushrooms. Their first product Cruz Burgers is currently available in more than 30 locations across MI. Her new experiences in food will support agribusinesses and consumer packaged goods in the U.S. and Africa.
From the Desk of The Digital Diplomat is a specialized mentorship and coaching platform that provides courses and resources on how to impact locally and build globally. The Digital Diplomat Podcast – Impact Locally, Build Globally is available on Apple, Amazon Music and Spotify.
A proud member of Delta Sigma Theta Sorority, Inc., the Ghanaian-American New Jersey native is a wife and mother of three currently residing in Detroit, Michigan.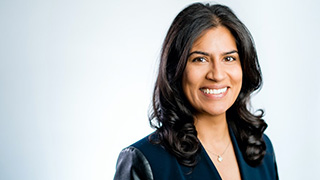 Rehana Nathoo, M.A. '11
Rehana is the Founder and CEO of Spectrum Impact, a strategy consulting firm that supports a range of organizations looking to expand their impact investing footprint.
Previously, Rehana led the Impact Investing program at the Case Foundation, helped design the Bank of New York Mellon's Social Finance program and pilot impact investment fund, championed the Rockefeller Foundation's impact investing grantmaking program, and supported partnerships at the UN Capital Development Fund (UNCDF).
Rehana serves as an Adjunct Assistant Professor within Georgetown University's Global Human Development Program, teaching on Impact Investing and Social Finance in emerging markets and is on the Boards of TortoiseEcofin, Grantbook, and Amplify Capital.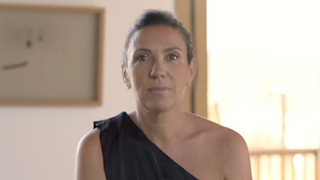 Susana Grau Batlle, M.A. '07
When she launched her high-end jewelry business SUSANA GRAU BATLLE in 2021, School of Diplomacy alumna Susana Grau Batlle '07 took a leap of faith. She found new and interesting ways to bridge her love for art with her passion for helping others. Her first collection, "The MOTHER of MOTHERS," released in October of last year, features five one-of-a-kind rings that pay tribute to the earth, its creation, and its feminine force and soul. Click here to see the behind-the-scenes video.
Her work has been featured in countless fashion and jewelry magazines in France, Monaco, Italy, Switzerland, and the U.K. For those currently in the Diplomacy Program at Seton Hall, opportunities with their degrees are limitless. Still, it is sometimes difficult to know how they can transform the world. Batlle's experience post-graduation helped shed some light on how students can use their degrees and follow a nontraditional path.
Batlle credits the School of Diplomacy with providing her with the skills needed to understand the field of international affairs and the diverse professional avenues available. Those skills prepared her to be an evolving professional in international relations. After graduation, Batlle worked on conflict and post-conflict assignments worldwide. Her time in these environments helped her develop a sensitivity to ethical practices, and her appreciation for beauty deepened as she experienced the vast world beyond the U.S. borders. She took these core beliefs and used them as the foundation for her company. The jewelry at her company aims to be as ethical as possible and ensure the protection of finite resources, which is why the company created the Earth Fund, where a percentage of its sales go to different organizations that protect the planet and its people. Click here to see the manifesto video.
Even after launching her brand, Batlle continues to work full-time in the field of international relations. As she expands and continues growing, she finds art and beauty as a new way to connect with others globally, creating a more complete experience. This experience also helps fulfill her passion for art and to express her creativity. For those looking to change careers or evolve into new and diverse interests, she challenges them to go for it. She suggests one "dare to craft a new version of you and to be open to change, even when it feels scary, and you don't have all the answers."
She continued that encouragement with her advice to current graduate students. She believes that while your professional experience will shape you, it is not the complete picture of who you are. She encouraged graduate students to take risks and not to "settle for any preconceptions made by society telling you what you should do, how, and by when." Every person should follow their own North Star and allow it to be the guiding light of how they can best express themselves. She reminded us that high temperatures and high amounts of pressure cause carbon atoms to bond to form beautiful diamonds. She believes one's life and professional experiences will help them develop and evolve uniquely and beautifully.