"The energy of a group of aspiring leaders is unmatched and quite contagious in the Buccino Leadership Program and it is exactly what makes this leadership journey so special"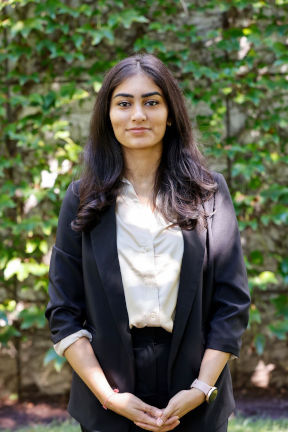 Born and raised in India, Pranali has always been appreciative of the diversity India had to offer. Ever since her childhood, she has always expressed curiosity for different cultures, languages, and people and being from a multiethnic background just fueled that curiosity further. It is no surprise that she decided to pursue Diplomacy and International Relations as her field of study and is already fluent in 6 languages.
Pranali attended John F Kennedy Memorial Highschool in Iselin, New Jersey. She was on the E-Boards of 2 Honor Societies, member of various clubs from American Cancer Society to Student Council and Human Rights Club, a varsity athlete, and an active volunteer in her community. This drive has also carried into college as she is involved in various initiatives on campus while also working as a pharmacy professional as part of the Walgreen's Pharmacy Apprenticeship program.
Pranali chose to join the Diplomacy community here at Seton Hall because of how welcoming everyone was-from the Dean to the students. The Diplomacy and International Relations program at Seton Hall University was unique and incomparable to any other Diplomacy programs in the State of New Jersey and Pranali knew she could not give up an opportunity like this. She only became a part of the Buccino Leadership Institute family as a "newbie sophomore" and believes that it is the best decision she could have ever made for her leadership journey. Pranali hopes to gain valuable lessons and leadership skills that will not only contribute to her success as a student but also as a professional in her field throughout her career and beyond.
Seton Hall Career Highlights:
Competitively selected into the Buccino Leadership Institute
Women in Diplomacy Leadership Program, E-Board Member
Girl Up, E-Board Member
South Asian Student Association, Member
Habitat for Humanity, Member
Dean's List Fall 2020, Spring 2021
Student Advisor to the Woodbridge BOE