Undergraduate Social Work Director Honored at "Top Reviewer" at National Conference
Tuesday, March 26th, 2019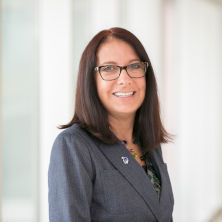 Dr. Dawn Apgar, Director of Seton Hall's Social Work B.A. (B.S.W.) Program, received an award at the Association of Baccalaureate Social Work Program Directors (BPD) Annual Conference in Jacksonville, FL. Dr. Apgar was honored as "Top Reviewer" for the Journal of Baccalaureate Social Work Education (JBSWE) at the conference's annual awards banquet. There are over 500 nationally accredited programs by the Council on Social Work Education (CSWE) across the country. BPD is one of the premiere organizations of national B.S.W. programs with hundreds of educators in attendance at the conference.
Dr. Apgar's honor was based on her 2018 service for the journal as a consulting editor that included comprehensive reviews of nine manuscripts, providing feedback at multiple stages of the peer-review process. Journal article reviewers are tasked with examining the scholarly work of others and judging a manuscript's suitability for publication. This peer-review process maintains academic rigor and provides oversight from experts without conflicts of interest. Dr. Daley praised the contribution of Dr. Apgar, citing her feedback as not only helpful to authors, but a reflection of her high standard of intellectual inquiry.
The award was presented by Dr. Michael Daley, Director of the Social Work Department at Texas A&M University, who serves as Editor of JBSWE and is a former president of BPD. Notably, Dr. Apgar and her former Seton Hall B.S.W. student co-authored an article on innovative methods to teach policy practice, which was published in JBSWE last year.