Tribute for Dr. Julia 'Judy' Miller (1928 – 2021)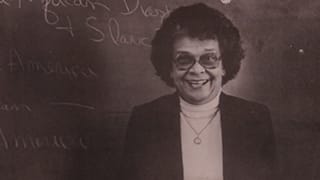 On Saturday, July 31, 2021 at 1 p.m. in Jubilee Hall, the community will gather to remember Dr. Julia Miller. Dr. Miller was employed at Seton Hall from 1970 to 1989. This service will be preceded by a gospel serenade from the University chimes at 12:45 p.m. The University community is invited.
In 1967, prior to coming to Seton Hall, Dr. Miller was a research associate member of Governor Richard Hughes commission to study the urban disorder and rebellions in New Jersey that year.
In 1970 Seton Hall University started their Black Studies Center. Dr. Miller was the Foundling Associate Director under Dr. George Jackson. Within two years she became the director. The center was a semi-autonomous academic and research center devoted to the liberation of people of African descent. It had the operational authority of a school within the University's governing structure. Many world and national leaders were honored by the Center and several were awarded honorary doctorates by the University through the Center. These dignitaries included Michael Manley, the prime minister of Jamaica and Alex Haley, author of The Autobiography of Malcolm X and Roots. 
Judy received her Ed.D. from Rutgers University under the mentorship of the legendary Dr. Samuel Proctor. She received the McQuaid medal in 1987. After her first retirement from Seton Hall in 1987, she was asked to return as a consultant to design a university-wide component for students to do volunteer work, similar to what was done within the Black Studies Center in local urban communities. That initiative is now called D.O.V.E., the Division of Volunteer Efforts. Today university students and staff produce more than 20,000 hours of volunteer service through DOVE-related activities.
In 1989 she received a Fulbright Fellowship to teach at Wu Han University, China. During her period at Wu Han, the Tiananmen Square, pro-democracy protests occurred, and students boycotted their university classes except for her course on the Civil Rights Movement.
Dr. Miller was married to Don Miller and they have two sons, Eric and Craig. Don Miller is considered one of the preeminent Black artists in America. Links to information on three of his major achievements are below. The two areas are the Budweiser African Kings and Queen Series and the mural of the civil rights movement that was commissioned for the Martin Luther King Memorial Library, Washington, D.C. The last item is the Seton Hall Gallery presentation of his work, in 1998, entitled "Black Beauty, Identity and Spirituality: The Art of Don Miller." Links to the official family statement and Don Miller's legacy are below.
Associates, Former Students, and Friends Reflect on Her Impact
My name is A. Zachary Yamba, Seton Hall University Class of '65 and President Emeritus of Essex County College where I served for 30 years from 1980-2010. I have also been a member of the Seton Hall University Board of Regents for over 25 years.
Dr. Judy Miller was both a dear friend and colleague who was a fierce advocate for minority access to an affordable higher education and also the establishment of a Black Studies Department at Seton Hall University. In addition to her advocacy roles, Dr. Miller became a mentor to many students and young minority faculty members. All found their way to her office to seek advice and at times to be counseled at her feet. Dr. Miller was a quiet listener and a trusted administrator.
During the summer months, Dr. Miller and her world-acclaimed artist husband, Don Miller, would open their home in Montclair for a grand cookout. It was always an occasion for many of us to gather outside of the collegiate environment to socialize and develop new contacts. No one who came was a stranger; the Millers welcomed all with open and generous hearts.
We have lost a giant of a lady, a scholar and a pioneer. We will miss her but she will never be forgotten.
Rest in perpetual peace with the Ancestors, Dr. Miller!
James E. Harris, President, New Jersey Association of Black Educators
Commissioner, New Jersey Amistad Commission
Dr. Miller was a founding member of the New Jersey Association of Black Educators (NJABE) and remained an active member throughout her life.
Dr. Miller was a charter member of the New Jersey Amistad Commission. As a Commissioner, she was responsible for acquiring thousands of dollars of grants from the Terrell Foundation. She was a member of the Board of Trustees of the Terrell Foundation. She was active on several committees of the Amistad Commission. She was active in advising Assemblyman William Payne who was the primary sponsor of New Jersey Amistad Commission Law.
Dr. Miller was a loyal dedicate Member of the Board of Directors for Chad School, one of the first African Free Schools in Newark, New Jersey.
Dr. Miller was a trusted Advisor and close friend of Dr. Wynona Lipman during Dr. Lipman's political journey that culminated in her election as New Jersey State Senator for the 29th Legislative District.
Dr. Miller was known to smoke thin cigars. She was eloquent in speaking "truth to power" while mentoring and coaching students, peers and diverse communities.
Her memory and legacy will forever endure.
Mrs. Brenda Knight, Office of the Dean, College of Arts and Sciences
How do you put into words, and share with all mankind, a life well lived? Dr. Julia A. Miller is that person. For the last fifty years Judy has been a personal friend and confidant. We worked together and after her retirement our relationship continued until her death. Her everlasting fight for the rights of all people was constantly evidenced in her efforts.
I will forever miss her laughter, her commitment to our people, and a good cigar every now and then. We often sat discussing the plight of Black Studies on the campus of Seton Hall University. Whatever Judy could do for the students, always took priority. There were some tough times all around us, in the early years of the Center.
There were many Friday afternoons, when the melodious student voices of "Voices United" could be heard rehearsing down the hall from the Office of Black Studies. This gave us the uplift, which everyone needed, at the end of each week.
Education was her primary goal and the people she worked with in the surrounding communities around us enriched the lives of everyone.
Thank you, Judy!!!!
Dr. Geraldine Washington, Class of 1973, NJ Administrative Office of the Courts, Chief of Family Court Services (Retired)
Our heroes are sometimes hidden from our view but still in clear sight. Judy Miller was a silent hero to many people but not to the students and the community she was attached to. She was a real warrior fighting for the students at Seton Hall University, of which I was one, and the larger Black community she championed as her opportunities to effect change came available to her. You would always find her where she was needed, speaking the voice of the people that were silenced by the political and economic circumstances of America. She never forgot the history that brought us to our reality. Judy had the uncanny ability to remind us of our duty to take whatever opportunities presented to us, but to remember who paid for them to be available for our use. No need at this point to bare our personal relationship, that will be etched in my memory for the rest of my life. This is the time to remember her as the larger-than-life advocate for the struggle of disenfranchised people, no matter where they might be.
Bettie Davie, Class of 1973, Associate Director for CBS News & Video & Film Director (Retired), Producer & Writer & Co-Manager for Jazz Great, Dianne Reeves
Honey, Darling, Mom, Auntie, Sister, Judy Miller, Ms. Miller, Julia, Mrs. Miller, Dr. Miller, friend, confidant, mentor, smart, funny and Sista Black, all loving and praise names for Judy Miller; our Judy Miller; no, no my Judy Miller.
My Judy Miller was bad ass and had to kick some too. She was an incredible human being who loved her family and her extended family. Her love for Black people was never-ending. Her dedication to Our people was fiercely steadfast and strong. She never wavered in her commitment to Our Revolution and Evolution as a viable community and OUR rights to have peaceful and productive lives. She loved US with all with her heart and soul.
I enjoyed so many wonderful and deep conversations with Judy. Of course, a nice glass of wine really got us to discussing the plight of Black folk and the World. She was an incredible Director of Black Studies at Seton Hall University. Truly, Dr. Miller was devoted to her students.
Her advice and support was incalculable not only to me and the other Black students but, also, to our fellow students throughout the diaspora; Africa, The West Indies, etc.
Some of best times I had with Judy was in her home in Montclair where a good bottle of wine was ready to go along with delicious paella from the restaurant, Spain, in Newark. And then to sit at her table with the late John Henrik Clarke. I could hardly eat my food. I didn't want to miss a word he was saying.
Judy not only shared with me some of the most important and famous people in The Movement but, also, shared her immediate family with me too. I was one of the family. To this day, both of her sons, call me their sister. 
Judy was one of the most secured and unselfish woman I know. One day I went into her office and said Judy, I'm going to live in Nigeria for a year with a Company called Jacaranda and train Nigerians in TV production. We need an artist to come too. I would like to ask Don, her beloved husband, if he wanted to join us. Judy picked up the phone, handed it to me and said call him. Don said yes and the rest is history. Judy would come over to visit and we would have incredible conversations. The group felled in love with her and was just as anxious to see Judy as Don and I were when she would come to visit.
Our friendship was forever. She was so loving and caring. And if ever there was a role model, well..........
I am so glad Judy was in my life.  I will miss her dearly but ever so grateful for the encouragement, support, knowledge, hugs and most of all the love we shared.
Rest in peace Sista Black!
Professor Larry Green, Department of History, Seton Hall University
She was a wonderful lady who meant so much to the establishment of Africana Studies on the Seton Hall campus. I will always remember her strong and everlasting commitment to the struggle for racial equality and social justice in America. Her strength, humor and optimism in trying times was contagious and so necessary. We will all miss her.
Kelly Harris, Department Chair, Africana Studies, Seton Hall University
Africana Studies/Black Studies has been at Seton Hall University for 50 years. In many ways the golden years came under the leadership of Dr. Julia Miller. Dr. Miller established a working relationship with Betty Shabazz, Gil Noble and other notable figures – even granting Alex Haley his first honorary doctorate. The Black Studies Center thrived under her direction and served as a space for academic excellence and social responsibility. She will be sorely missed by those committed to protecting the legacy of Africana/Black Studies at Seton Hall University."
Rev. Dr. Forrest Pritchett, Senior Adviser to Provost for Diversity, Equity, Inclusion and Professor in University Core and Africana Studies recounts: I taught for nine years, at two other universities in New Jersey, before coming to Seton Hall in 1978. During those nine years, the most significant programming in the tri-state area, on the issues confronting African Americans and American society were being conducted here at Seton Hall. The Seton Hall Black Studies Center was viewed as the "mountain top" experience in the metropolitan New York-New Jersey area. Based on its structure, course offerings and scope of mission, it easily would be ranked among the ten programs in the nation. Once I started in the Black Studies Center in 1978, my responsibility was to develop community-based initiatives with appropriate course work and direct relationships and internships with community leaders. Her influence on me was profound. She role modeled tenacious and bold leadership that motivated me to be the best that I could be for the world's oldest struggle. She was the epitome of Maya Angelou's "Phenomenal Woman."
From "Phenomenal Woman"
Now you understand
Just why my head's not bowed.
I don't shout or jump about
Or have to talk real loud.
When you see me passing,
It ought to make you proud.
I say,
It's in the click of my heels, 
The bend of my hair,
the palm of my hand,
The need for my care.
'Cause I'm a woman
Phenomenally.
Phenomenal woman,
That's me.
Hughes Commission Report: Judy Miller
Chicago Tribune Obit Don Miller
MLK Mural Restoration: MLK Library Washington, DC : Don Miller
Black Beauty, Identity and Spirituality: The Art of Don Miller
Obituary of Julia "Judy" Miller
Categories: Arts and Culture, Faith and Service, Nation and World