Seton Hall Supports Prevention Links' 25th Annual Union County Red Ribbon Day
Wednesday, November 8, 2023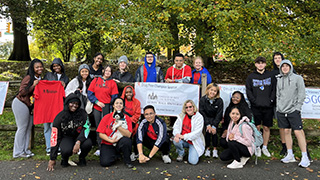 This year on October 21st, Prevention Links – a private non-profit organization and leading force in the prevention of drugs, alcohol, tobacco, and related issues – celebrated 25 consecutive years of its Red Ribbon Family Fun Festival and its inaugural 5K Run. Each year, community members, businesses, non-profits, and other stakeholders from the Union County area gather to raise awareness and funds to increase support for substance abuse prevention, treatment, and recovery. The community's support and funds raised through the walk and family event are used by Prevention Links in their ongoing drug abuse prevention efforts through their free community programs and services.
Among the event's partners who hope to make a meaningful reduction of the impact of substance misuse and addiction in our communities, was Seton Hall's College of Arts and Sciences generously sponsoring the festival. In addition, Seton Hall students from the University Core and the BSW's Student Social Work Association (SSWA) also participated, donating their time as both volunteers helping run the event, and as runners in the 5K. The SSWA has been an avid supporter of the event's mission of preventing substance abuse disorders and promoting mental health wellness, hosting bake sales on campus throughout the week, and raising over 300 dollars thanks to generous donations from the Seton Hall community.
Mary Landriau, Faculty Associate in the Social Work Department, Shelia Riley, Assistant Dean of Finance and Business Administration, and Timothy Hoffman, Director of the Center for Research and Engagement, all facilitated our students' attendance at this worthwhile event.
Red Ribbon is celebrated locally and nationally to increase awareness and support for substance abuse prevention, treatment, and recovery. Since its beginning in 1985, the Red Ribbon Campaign has touched the lives of millions of people around the world. In response to the murder of DEA Agent Enrique Camarena, angered parents and youth in communities across the U.S.A. began wearing red ribbons as a symbol of their commitment, to raise awareness of the killing and destruction caused by drugs in America. In 1988, NFP, the National Family Partnership, formerly the National Federation of Parents for Drug-Free Youth, sponsored the first National Red Ribbon Celebration. Today, the Red Ribbon mobilizes communities to educate youth and encourage participation in drug prevention activities.
Categories: Campus Life