Educating the Next Generation of Environmental Reformers
Thursday, April 26th, 2018
Senior environmental studies capstone students are partnering with organizations statewide to create educational materials that can be used in various schools, organizations, and communities. Each project is focused on educating others about the importance of protecting and nurturing the environment.
According to Marian Glenn, co-professor of the capstone class, "Environmental Studies draws on many academic disciplines, and this broad spectrum of knowledge makes it a good major for aspiring elementary and middle school teachers. About half of the students who are majoring in environmental studies are also in the College of Education."
"New technologies are expanding our view of the Earth and revealing effects of human activities that are profoundly changing the nature of our planet. A new generation of students are challenged to practice ecological restoration to lighten the footprint of human activity on the environment. Resolving the crisis of our environment is a challenge that draws on the endeavors of all the disciplines, working together."
Inspired by Earth Day on April 23, this story is the last in a three-week series and highlights the research for and creation of materials that environmental organizations will be able to use to provide enhanced educational opportunities.
Informing our Children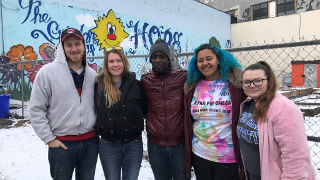 Gabby Bryce, Rebecca Marcinko and Katie Baker have been making workbooks and lesson plans for teachers of 3rd and 5th graders. The plans are focused on teaching students about sustainability and the environment. A few schools in Newark will begin to incorporate the plans in their curriculum next year. The workbooks include educational exercises about the plant life cycle, nutrition, medicinal herbs, and hands-on activities such as gardening. The workbooks will also promote memberships with a local community supported agriculture (CSA) program, whose low membership numbers are creating a problem of food waste.
Learn more about the work they are doing on their blog: https://newarkseniorcapstone.weebly.com/
Benefitting New Communities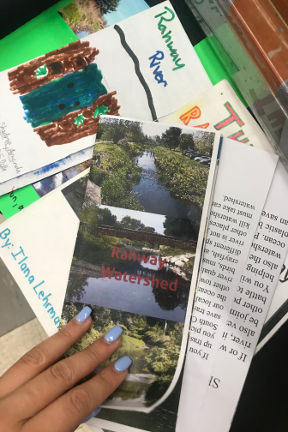 Gabi Hunt is working on research with the Quaker Earthcare Witness. They are advising a Quaker group on how to transition into sociocracy, a dynamic method of governance. Instead of being structured as a hierarchy, sociocracies focus on different circles of society, and everyone refers to the main body. Hunt is helping to research how to make sociocracy financially sustainable.
Additionally, Hunt is also working on research of an African Diaspora community in Chester, Pennsylvania. The community is struggling with poverty, disease, and other systemic issues, as well as combating being a food desert. Hunt is guiding the community's venture to launch agricultural projects focused on growing life-saving medicines without needing pharmacies, which are hard to come by in their rural area.
To learn more about her research, visit her blog here: https://gabihunttransitionmovement.wordpress.com/
Creating Hands-On Learning for Students

Tammy Quach and Joshua Morenos are working with the New Jersey Watershed Association to create a curriculum that will be implemented in middle school classrooms. They are working specifically with South Orange Middle School to help improve their existing curriculum. Seventh grade students will learn about the importance of preserving and restoring the ecosystem and will be able to put this learning into practice with hands-on projects.
The seventh graders have been connected with the Rahway River Watershed and will take part in River Day 2018 by helping to clean up the river. By the end of the semester, Quach and Morenos expect to have a completed River Curriculum Guidebook with lessons, activities, and other resources for teachers to use in the classroom.
Protecting the Birds
Kelly Price is working with the Raptor Trust. She has assisted them in developing new educational materials about the birds, their diets and nests, and information regarding causes of death among the birds and ways to prevent them. She is also assisting with administrative tasks including tracking donations. The educational materials Price has created will be used with groups of children that visit the birds to help them learn facts about them and ways they can help preserve the environment for them.
For more information about her work with the Raptor Trust, visit her blog here: https://pricekelcapstone.weebly.com/.