Cossack Dance Performance and Workshop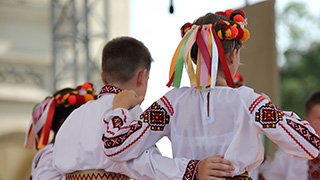 At 6:30 p.m., Thursday, November 9, in Jubilee Auditorium, the Seton Hall University Dance Team and the Slavic Club are cosponsoring a lively "Cossack Dance Performance and Workshop."
This event will entail a program with musicians, singers, and dancers in multiple costume changes for a traditional Eastern European folk experience. The group, known as Barynya, will demonstrate many Cossack, Ukrainian, Russian, Roma, Moldovan and other traditional songs, dances and instruments.
They will perform different traditional dances including Hopak, Kolomyka, Kalinka, Katyusha, Barynya. The night will conclude with a dance workshop during which the audience will learn traditional Cossack dancing.
This music, dance, and song ensemble has been founded in 1991 by its artistic director Mikhail Smirnoff. Its members are the top Slavic folk dancers, traditional virtuoso musicians and singers who have performed with such world re-known companies as the Moiseev Dance Company, Virsky Ukrainian National Dance Company, Don Cossacks of Rostov Don, and many others. Journalist Keith J. O'Connor, in his article in the Massachusetts' "Republican", named Barynya's members "world-acclaimed musicians, singers and dancers..."
The event is free, and everyone is welcome! Come and enjoy a fun evening!
- Slavic food will be served.
Categories: Arts and Culture, Campus Life