Seton Hall Sets Historical Record, Surpassing Goal and Raising $1.2M in Sixth Annual Giving Day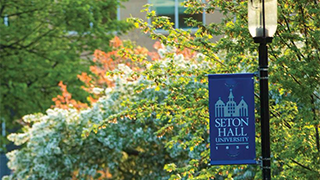 Seton Hall's sixth annual Giving Day, on April 19-20, saw significant success. Led by University Advancement, with collaborative effort represented across the University, including all Schools and Colleges, Pirate Blue Athletics, faculty, staff, students, the Board of Regents, the Alumni Board of Directors, the Young Alumni Council, and the Student Alumni Association, the initiative broke records again and contributed to a new historical year. This year, Seton Hall Giving Day exceeded its goal of 1,856 donors (in honor of the University's founding year) and raised over $1.2M from more than 2,300 enthusiastic Pirates. These results make this year the highest in terms of dollars raised and number of donors since the inception of Giving Day in 2018.
"The Seton Hall community, along with our influential and encouraging network of alumni, parents, faculty, staff, students, and friends, has demonstrated continued devotion, making these extraordinary results possible," says Anthony Bellucci, M.B.A. '18, Associate Vice President of Alumni Engagement & Philanthropy (AEP). "It is truly a team effort. The commitment of our Pirates nationwide made this goal achievable and demonstrated what we've known all along: how impactful our community is when we come together."
The Seton Hall community continues to show what it means to come together and harness collective power to make a difference that is both seen and felt throughout the University and across each campus. Senior Associate Athletics Director for Development, Josh Azer, says, "The support and energy shown from Pirate Nation was incredible. The competitive spirit from our coaches, parents, alumni, friends, and student-athletes was evident throughout this challenge. We are grateful that we can count on this amazing community to step up and support our student-athletes and we truly appreciate their dedication."
From Seton Hall Law, Senior Director of Advancement Communications, Stewardship, & Philanthropic Engagement, Stephanie Silvestri, says, "The immense support of Law School alumni on Giving Day truly exemplifies how loyal and engaged our community is. Their generosity will have an impact on current and future generations of Seton Hall Lawyers and will help shape programs, like the Interscholastic Moot Court and many others, that will only increase the value of a Seton Hall Law degree."
The 48-hour celebration kicked off on the South Orange campus with an event on the University Green hosted by AEP and with the help of the Student Alumni Association (SAA). The SAA representatives helped engage their fellow Pirates, encourage participation, and educate other students on the significance of philanthropy and the difference it makes both inside and outside the classroom. Giving Day tags were hung across the campus indicating important buildings and structures donated by alumni.
From there, waves of support poured in from Pirates nationwide and from many generous alumni and friends who set up and participated in various matches and challenges to encourage others to join the celebration and unlock additional funds. Several areas were highlighted like schools and colleges, many University priorities, Athletics' priorities including the Basketball Practice Facility, the Law School's Interscholastic Moot Court Program, and campus causes including the Martin Luther King, Jr. Scholarship Association, ROTC, and the First-Generation Forward Program. Lead support during Giving Day drove its tremendous success and assisted in taking the day to new heights.
"The strength of Seton Hall's community lies within the compassion of its Setonians to rise up to any occasion, be diligent in their effort to give back, and show care for their fellow Pirates. I thank all Setonians for their generosity," says Jon Paparsenos '99, Vice President for University Advancement. "The results of this year's Giving Day will have a transformative ripple effect on the student experience; Setonians provided resources for scholarships, for the growth of several campus programs and initiatives, for Division I athletic programs, the study abroad program, and so much more."
This year and every year, Pirates everywhere continue to show how they are "Hall for one and one for Hall!"
Although Seton Hall Giving Day has ended, you can continue to show your support for students and the University by clicking here.
Categories: Alumni