Seton Hall Receives $10 Million Commitment for University Center
Thursday, March 30th, 2023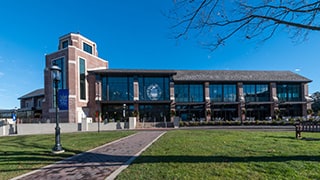 Seton Hall University is pleased to announce a $10 million anonymous commitment toward its recently renovated University Center. Since the ribbon was cut last November on this monumental project, alumni, friends and corporate benefactors have continued to invest in the latest upgrade to the University's South Orange campus.
Wanting to "re-activate" the 60-year-old building and deliver a 21st-century experience for the students was the primary motivator for the donor. Now the 48,000-square-foot student hub is one of the most eye-catching features on campus.
Several alumni and supporters have stepped up and invested in this important resource for students who frequent the University Center to collaborate, create, inspire, and innovate. The building houses the main dining facilities, a theatre, student-focused club rooms, a media studio, an art gallery, event space, lounge and study space, and the offices of Campus Ministry, Inclusivity, and Student Services. New outdoor amenities include an amphitheater, meditation garden, fire pit, and sun-filled dining patio.
Since November, the space has hosted such esteemed guests as Billie Jean King, tennis legend and advocate for women athletes; Ambassador Csaba Kőrösi, President of the 77th Session of the UN; and Archbishop Christophe Pierre, Apostolic Nuncio (the Vatican's ambassador to the United States).
"Since the refurbished University Center has opened, students enthusiastically build community in the lounges, dining halls, and activity rooms," said Vice President of Student Services, Monica Burnette, Ph.D. "We are enormously grateful to all the donors who have made this space possible. The impact of their investments is visible and audible: the building is alive with learning, growing, and simply having fun."
The renovation of the University Center is one of several capital projects throughout the South Orange campus in recent years. Boland Hall, one of the University's oldest residence halls, has undergone renovations and additions. Walsh Gymnasium, where the women's basketball, volleyball, and at times men's basketball teams practice and play their games, has been completely renovated. The Stillman School of Business Trading Room in Jubilee Hall has been expanded and upgraded with state-of-the-art technology and additional Bloomberg terminals. In 2018 the University completed construction of Bethany Hall adjacent to Farinella Gate, which serves as a welcome center, event space, and home of the admissions office. Muscarelle Hall (formerly Stafford Hall) was updated with larger, state-of-the-art classrooms, accessibility features, and a new façade. The next major project will be the creation of a new athletics practice facility as an extension of the Richie Regan Recreation and Athletic Center.
"We are forever grateful for this overwhelmingly generous gift, and for the many contributions to our ongoing efforts to enhance our campus infrastructure," said Jon Paparsenos, Vice President for University Advancement. "New and updated facilities enable us to provide a welcoming, productive, and rewarding college experience for our students, which is what Seton Hall is all about."
For more information on how Seton Hall University is expanding its resources, contact University Advancement at [email protected], (973) 378-9800.
Categories: Campus Life, Faith and Service