Reflections From the Holy Land: Lenten Meditations From the ICSST Community
Thursday, February 23rd, 2023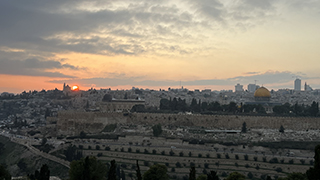 In preparation for the Paschal Feast, Immaculate Conception Seminary School of Theology (ICSST) invites the Seton Hall University community and beyond to join in reflection and prayer as part of its annual Lenten meditation series, this year themed "Reflections from the Holy Land."
Accompany the School on a spiritual pilgrimage to Christ's victory over sin and death through written reflections authored by seminarians and members of the ICSST community. Photographs taken by seminarians on a recent pilgrimage add a vision for pondering and reflecting on biblical teachings, Scripture and emotions of key sites such as Bethlehem, Nazareth and Cana. Each brief encounter, delivered by email, will help participants to allow the Holy Spirit to open their hearts to the transforming grace of God.
Reflections begin on Ash Wednesday, February 22, and continue through Good Friday, April 7.

To subscribe, please visit the Lenten Series registration page.

Since 2019, ICSST has offered reflection series during the Advent and Lenten seasons, bringing more than 2,000 subscribers together, including Seton Hall students, faculty, staff, administrators and other members of the surrounding community from near and far to join in a union of prayer and reflection during these key liturgical seasons.

About ICSST
Immaculate Conception Seminary is a House of Formation for the Roman Catholic priesthood and the School of Theology of Seton Hall University. As a House of Formation, the Seminary offers men preparing for the priesthood the personal, academic, ministerial and spiritual formation essential for their conversion to Jesus Christ and for their commitment to a life of service to the Church.

As a School of Theology, the Seminary provides a theological and philosophical foundation for men and women pursuing undergraduate and graduate studies; preparing for ministries among the people of God; and varied opportunities for continuing theological education.

Forming priests for God's people has remained the Seminary's constant focus, and the Seminary faculty—well-educated authors and scholars in their own fields—devote their time and energy to preparing these men for priesthood amidst the challenges of the 21st century. The School also focuses on the education of lay men and women in theology, permanent deacons, religious who are not studying for ordination, and already-ordained priests—not only providing for them academically, but also for their personal, pastoral, and spiritual formation.
Categories: Faith and Service