Professor Emeritus to Lecture on New Book
Wednesday, March 23rd, 2022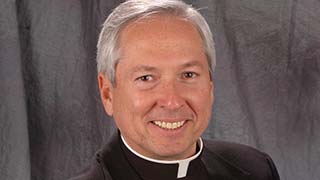 Reverend Monsignor Thomas G. Guarino, S.T.D., professor emeritus of systematic theology at Immaculate Conception Seminary School of Theology, will lead a discussion on his new book, The Unchanging Truth of God? Crucial Philosophical Issues for Theology, at 3 p.m. on Thursday, April 7, 2022 in the Chapel of Christ the Good Shepherd in Lewis Hall.
A light reception will follow the lecture, where books will be available to purchase. Registration is encouraged and those interested can register by emailing [email protected].
The Unchanging Truth of God? Crucial Philosophical Issues for Theology (Catholic University Press) includes essays that display how Catholicism understands the proper use of philosophy within theology, as well as the proper relationship between human rationality and Christian faith, and between the natural order and supernatural grace.
"Theology and philosophy are two essential disciplines. They might even be justly called the foundation of a liberal arts education—particularly at a Catholic university," said Monsignor Guarino. "This book examines, from a theological point of view, how the two disciplines are interrelated—and why a vital and creative synthesis between them is both necessary and profoundly productive for reason and for faith."
To illustrate these points more deeply, Monsignor Guarino draws on the perspectives of Christian thinkers such as Origen, Augustine, Aquinas, Anselm, Newman and John Paul II. He also examines the work of Martin Heidegger, Hans-Georg Gadamer, Friedrich Nietzsche, Gianni Vattimo and numerous other philosophers.
Monsignor Guarino is an accomplished writer and four-time recipient of the School of Theology Researcher of the Year (2004, 2009, 2016 and 2018). He is known for his past publications, including Foundations of Systematic Theology, Vattimo and Theology, Evangelicals and Catholics Together at Twenty, Vincent of Lerins and the Development of Christian Doctrine and The Disputed Teachings of Vatican II, and scores of articles and reviews in theological and philosophical journals.
About ICSST
Immaculate Conception Seminary is a House of Formation for the Roman Catholic priesthood and the School of Theology of Seton Hall University. As a House of Formation, the Seminary offers men preparing for the priesthood the personal, academic, ministerial and spiritual formation essential for their conversion to Jesus Christ and for their commitment to a life of service to the Church.
As a School of Theology, the Seminary provides a theological and philosophical foundation for men and women pursuing undergraduate and graduate studies; preparing for ministries among the people of God; and varied opportunities for continuing theological education.
Forming priests for God's people has remained the Seminary's constant focus, and the Seminary faculty—well-educated authors and scholars in their own fields—devote their time and energy to preparing these men for priesthood amidst the challenges of the 21st century. The School also focuses on the education of lay men and women in theology, permanent deacons, religious who are not studying for ordination, and already-ordained priests—not only providing for them academically, but also for their personal, pastoral, and spiritual formation.
Categories: Faith and Service