New Series of Reflections on St. Joseph to Begin March 19
Wednesday, March 17th, 2021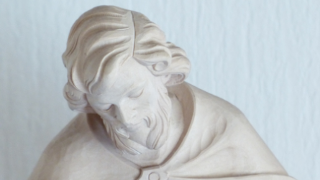 A new series starting March 19 will offer spiritual reflections on St. Joseph.
"In the School of St. Joseph: Spiritual Reflections in Disquieting Times" is inspired by Pope Francis' letter on the saint, "Patris Corde," which he released when he inaugurated the Year of St. Joseph on the feast of the Immaculate Conception, December 8.
The reflections, as well as insights into sacred art depicting St. Joseph, will be published biweekly and sent by email to those who register. The series will start on the feast of St. Joseph, March 19, and end on the feast of St. Joseph the Worker, May 1.
It is presented jointly by Immaculate Conception Seminary School of Theology (ICSST) and The Lay Centre, Rome, with whom the School of Theology has established a partnership. Below are the themes to be presented:
March 19: St. Joseph – The Silent Witness
"Joseph found happiness not in mere self-sacrifice but in self-gift. In him, we never see frustration but only trust. His patient silence was the prelude to concrete expressions of trust." ("Patris Corde," 7)
The first reflection will address the theme of holiness in ordinary life, something that St. Joseph experienced, especially in his eloquent silence. Pope Francis has spoken of the "saints next door," ordinary people who, in their humble and seemingly meaningless lives, offer great testimonies of the Gospel. Among them, the elderly, persecuted Christians, religious people in contemplative life, and many lay people, who simply work hard and pray, asking for strength and guidance to support their families in daily life.
Presenters:
Monsignor Joseph Reilly, S.T.L., Ph.D., is a priest of the Archdiocese of Newark, New Jersey. He has served in parochial ministry and secondary education, and has been in seminary formation for nearly 20 years. He is the rector and dean of ICSST. He is also chair of The Lay Centre's Board of Directors.
Dr. Donna Orsuto is the co-founder and director of The Lay Centre and a professor of spirituality at the Pontifical Gregorian University in Rome. She gives lectures and retreats worldwide and has authored two books and numerous journal articles.
April 2: St. Joseph – The Power of Vulnerability
"The Son of the Almighty came into our world in a state of great vulnerability. He needed to be defended, protected, cared for and raised by Joseph. God trusted Joseph, as did Mary, who found in him someone who would not only save her life, but would always provide for her and her child." ("Patris Corde," 5)
In this second reflection, we will explore various situations of vulnerability and how, following the example of St. Joseph, we can become guardians of the most vulnerable. In his letter, Pope Francis says Joseph is the guardian of the Church and continues to protect it. Likewise, "every poor, needy, suffering or dying person, every stranger, every prisoner, every infirm person is 'the child' whom Joseph continues to protect." Is there a "spirituality of vulnerability"? How can we face our own vulnerability in prayer and action in these disquieting times?
Presenters:
Dr. Amaya Valcárcel, an international advocate of the Jesuit Refugee Service, currently serves with the migrants and refugees section of the Dicastery for Promoting Integral Human Development, which is an action-oriented Vatican office, directed by the pope.
Dr. Dianne Traflet is associate dean and assistant professor of pastoral studies at ICSST. Dr. Traflet is also a Lay Centre alumna (1994) and a member of The Lay Centre's Board of Directors.
April 16: St. Joseph – Fatherhood and Loving Fidelity
"The greatness of Saint Joseph is that he was the spouse of Mary and the father of Jesus. In this way, he placed himself, in the words of Saint John Chrysostom, 'at the service of the entire plan of salvation.'" ("Patris Corde," 1)
In this third part, we will reflect on family and spiritual fatherhood. St. Joseph's model is that of a "tender father," who taught his son, Jesus, to walk, to work, to live in society. Joseph was also a good father in his relationship with Mary, whose son he adopted unconditionally. Joseph is also a reference for spiritual fatherhood, for those in ministry, who guide others in moments of weakness, bringing them closer to God through attentive listening, the sacrament of reconciliation, or simply through a merciful glance.
Presenters:
Fr. Míceál O'Neill, O.Carm., a friar of the Irish Carmelite Province, was elected prior general of the Order of Carmelites in 2019. He has served in many ministries within the order, including in Latin America, and most recently as prior of the order's international study house in Rome.
Mr. Patrick Rivera is the director of the Office for Young Adult Ministry at the Diocese of San Diego and a member of the National Advisory Team for Young Adult Ministry at the USCCB.
May 1 : St. Joseph - Cultivating Creative Courage
"Joseph is certainly not passively resigned but courageously and firmly proactive. In our own lives, acceptance and welcome can be an expression of the Holy Spirit's gift of fortitude. Only the Lord can give us the strength needed to accept life as it is, with all its contradictions, frustrations and disappointments." ("Patris Corde," 4)
The final reflection will be on "creative courage." How to face these difficult times with creativity, when everything presses us towards stillness? Through his "fiat," like Mary, Joseph accepts the path that God has laid out for him. In this way, he served not only Jesus and Mary, but all of humanity. How can we also put this creative obedience into practice in our relationships and in daily life?
Presenter:
Cardinal Joseph Tobin, C.Ss.R., is the archbishop of Newark, New Jersey, and Lay Centre board member. Pope Francis recently named Cardinal Tobin as a member of the Vatican's Congregation for Bishops.
March 19 – May 1: St. Joseph through Art
Dr. Barbara Aniello is an art historian, musicologist and cellist. She is currently an associate lecturer at the Pontifical Gregorian University in the Faculty of History and Cultural Heritage of the Church.
About ICSST
Immaculate Conception Seminary is a House of Formation for the Roman Catholic priesthood and the School of Theology of Seton Hall University. Forming priests for God's people has remained the Seminary's constant focus, and the Seminary faculty – well-educated authors and scholars in their own fields – devote their time and energy to preparing these men for priesthood amidst the challenges of the 21st century. The School also focuses on the education of lay men and women in theology, permanent deacons, religious who are not studying for ordination, and already-ordained priests – not only providing for them academically, but also for their personal, pastoral and spiritual formation.
Categories: Faith and Service