Associate Professor to Lecture on St. Thomas Aquinas' Account of Virtue
Tuesday, October 26th, 2021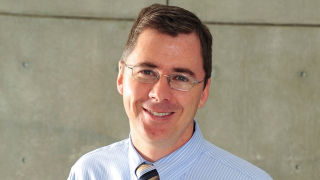 Justin M. Anderson, Ph.D., associate professor and chair of moral theology at Immaculate Conception Seminary School of Theology (ICSST), will lead a discussion on his recent book, Virtue and Grace in the Theology of Thomas Aquinas, during an upcoming lecture at 3 p.m. on Tuesday, November 9 in the Chapel of Christ the Good Shepherd in Lewis Hall.
Published in July 2020, Anderson's book traces the historical development of Saint Thomas Aquinas' understanding of human experience, divine action and supernatural grace.
"St. Thomas Aquinas profoundly impacted Catholic theology, but it's not commonly known that his theology of grace developed over time as his consideration of sin, grace and God's action in human life deepened," said Anderson.
Through its close analysis, the book unearths Aquinas' developing moral thoughts while discovering challenges to contemporary categories of philosophical and theological ethics. "We find that, for Aquinas, virtue is inextricably linked to both sin and grace. Thus, it's important to not only examine Aquinas' own account of virtue, but also his relationship to contemporary virtue ethics."
A light reception will follow the lecture and information on discount book purchase will be available. Those interested can register for the event by emailing Elizabeth Vacchiano at [email protected] or visiting the calendar listing for more information.
Earlier this year, Anderson was named the Seton Hall University Researcher of the Year in 2021, an annual award that honors faculty accomplishments in teaching and research. Anderson is also the co-author of Pursuing the Honorable: Honor and Today's Military and has published articles in peer-reviewed journals such as Freiburger Zeitschrift für Philosophie und Theologie, International Philosophical Quarterly and Irish Theological Quarterly.
About ICSST
Immaculate Conception Seminary is a House of Formation for the Roman Catholic priesthood and the School of Theology of Seton Hall University. Forming priests for God's people has remained the Seminary's constant focus, and the Seminary faculty—well-educated authors and scholars in their own fields—devote their time and energy to preparing these men for priesthood amidst the challenges of the 21st century. The School also focuses on the education of lay men and women in theology, permanent deacons, religious who are not studying for ordination, and already-ordained priests—not only providing for them academically, but also for their personal, pastoral, and spiritual formation.
Categories: Faith and Service