The College Tour
Exploring Seton Hall University: Tradition, Innovation, and Community
About The College Tour
Produced by Emmy-nominated and award-winning TV producers, The College Tour helps prospective students around the country travel virtually across America for an inside look at colleges and universities. The program is hosted by Amazing Race winner, Alex Boylan.
Explore Seton Hall's rich traditions, groundbreaking initiatives, and close-knit community that make it an exceptional choice for higher education. Meet 10 Pirates in The College Tour that will uncover the university's remarkable tapestry, celebrating its legacy and dedication to holistic education, where intellectual growth, innovation, and community engagement are seamlessly intertwined.
Watch the Full Episode
One of the country's leading Catholic universities, Seton Hall University has been developing students in mind, heart and spirit since 1856. Home to more than 90 rigorous majors, Seton Hall proves to be a dynamic institution that prepares students for a successful future with its deep-rooted traditions, innovative programs, and vibrant campus life. Seton Hall's 58-acre main campus is located in the quaint town of South Orange, New Jersey, only 14 miles from New York City, offering a wealth of employment, internship and cultural opportunities.
Meet Our Pirates
Hands-on Learning
Ava Ekberg
Public Relations
Meet Ava who had two amazing internships including one with the Metropolitan Museum of Art, visited 13 countries while studying abroad, and a DJ on WSOU, the student run radio station. Seton Hall is committed to giving students transformative experiences from their award-winning debate team, three student newspapers, conferences with faculty, and hands-on learning that's second to none.
---
Catholic Mission and Servant Leadership
Nicholas Kimble
International Economics and International Relations
Seton Hall really is all about opportunities and advantages that help students stand out and achieve their goals. Nick has already participated in four internships, focused on his passion to help others. Nick has found a way to merge his interests in International Relations with a desire to make the world a better place. Seton Hall lives its Catholic mission, hosting hundreds of volunteer opportunities locally and abroad.
---
Academic Excellence
Diana Malenkova
Biology
Diana had known she wanted to be a doctor since she was young. Diana chose Seton Hall because of its rigorous academics and stellar reputation in STEM fields. She engaged in four high-level research projects with her professors. Plus, she presented her – soon-to-be published research – at academic conferences. Students are exploring diverse passions and have experience from early on to help them build a stunning portfolio and resume.
---
Living Student Life to the Fullest
Kai Hansen
Business Administration, Chemistry and Philosophy
If you come to Seton Hall, chances are you'll run into students like Kai. He's active in his fraternity, a student government leader and even manages to hit the beach volleyball court outside his dorm. From Dallas, Texas, Kai wanted a diverse school, with an active campus, close to New York City – which is only 14 miles from the Big Apple. With 14 Division 1 Big East teams, intramural sports, a highly competitive Esports Team, Greek Life, student clubs, a radio and TV station, and access to influential speakers.
---
Gaining a Global Perspective
Idara Ben-Edet
Diplomacy and International Relations
Students find their way here from around the globe. Idara grew up in Nigeria choosing Seton Hall's School of Diplomacy and International Relations because of its amazing reputation. That's what you can expect from Seton Hall, with faculty who are former ambassadors and Fulbright scholars, a vast network of internship providers locally and globally, and close ties to the UN.
---
Location, Location, Location
Claire Wolfe
Visual and Sound Media
Claire loves being behind the camera and on the stage. Now she's landed an exciting job as a Broadcast Associate for the MLB network. With Seton Hall's connection to the big city, Claire and many other students in her shoes find it convenient to intern and land jobs in the surrounding cities and business districts, while walking distance to the quaint town of South Orange.
---
Leaders in Healthcare
Katalyna Lorick
Social and Behavioral Science; Occupational Therapy
Katalyna, a two-time alumna, got to continue her love of cheer while also becoming a successful and fully employed occupational therapist. With both her B.S. and M.S. from Seton Hall, she is truly a stellar example of aspiring leaders in the healthcare industry. The Interprofessional Health Sciences campus is a place for students in different healthcare fields to collaborate and work together in state-of-the-art simulation labs and facilities.
---
Welcoming and Supportive Community
Carlene Phillander
Political Science/J.D. (3+3)
Bursting with school spirit, Carlene is in a challenging dual degree program that allows her to earn both a bachelors and law degree in just 6 years. She's doing it with support from dedicated faculty and the personal attention needed to achieve her dreams. The University's mission is geared toward helping students reach their full potential and build a successful future.
---
Creating Tomorrow's Leaders
Jason Santos
Mathematical Finance; Quantitative Economics and Econometrics
As a member of the Buccino Leadership Institute at Seton Hall, Jason has received amazing mentorship with renowned faculty. Also thriving as a member of the Entrepreneur Club and founder of his own business initiative, Jason is an outstanding example of how Seton Hall shapes forward-thinking leaders of tomorrow.
---
Empowering Career Success
Joseph Kajon
Financial Mathematics and Mathematics
With over 500 companies visiting campus each year to recruit graduates, every student is paired with a career advisor for career success. This, along with well-connected faculty and alumni translates to a powerhouse for amazing employment opportunities. Seton Hall's emphasis on their students' career success is why 98% find employment in their field shortly after graduation and why 99% are admitted to graduate school.
Learn more about Seton Hall University through its faculty, staff, and leadership
Streaming The College Tour
Seton Hall University will be featured in Season 9 of The College Tour starting October 17 on Amazon's streaming service, IMDb TV, on The College Tour's app (Android, iOS) and website. It will also run on Roku, Apple TV, LG Smart TV, Samsung Smart TV, Sony, Philips Smart TV, Amazon FireTV and Android TV.
Visit Us
---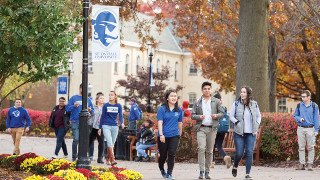 Schedule a TourSign up for one of our daily campus tours and information sessions.
Student Life
---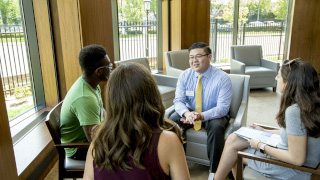 Learn More
Check out the endless opportunities offered to make the most of your college experience.
Apply Online
---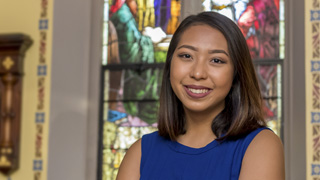 Apply Now
Get a jump start on your Seton Hall University career and apply online.