Prepare for the Spring Semester with TLTC's Winter Workshops
Monday, December 5th, 2022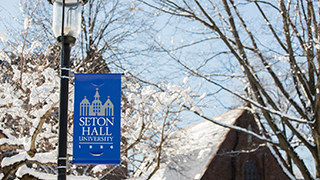 The Teaching, Learning and Technology Center invites all faculty to attend our upcoming winter workshop series, designed to provide tools and strategies that maximize student engagement. This three-day, virtual series will cover a variety of topics, such as technology tools and essentials, best practices for engaging Gen Z, and the use of Adobe to promote digital literacy and innovation in the classroom. Each of the three workshops will conclude with an open lab to allow participants the opportunity to practice the demonstrated tools and skills and receive individualized support from the presenter.
Day 1: Getting Ready for the Spring Semester
Tuesday, January 10, 2023
This day will be devoted to preparing you to teach in the spring semester. The workshop's sessions will guide you through technology essentials, including performing computer updates, managing files, copying Blackboard course content, setting up grading, and new engagement tools/resources to consider incorporating into your courses. View the workshop agenda and register for Getting Ready for the Spring Semester.
Day 2: Adobe Infused Coursework
Wednesday, January 11, 2023
Learn how faculty from across the campus are promoting creativity and innovation in the classroom by leveraging Adobe Creative Cloud for hands-on, digital assignments and projects. This session will explore the importance of creativity, and provide examples of creative assignments and assessments. We will discuss assignment setup, outcomes, how expectations were met, pitfalls encountered, grading considerations, and example artifacts. View the workshop agenda and register for Adobe Infused Coursework.
Day 3: Educating Gen Z
Thursday, January 12, 2023
Our youngest students are part of Generation Z, known both for their technological savvy and their unique perspective on the world. Today's sessions are intended to take a deeper dive into the distinguishing characteristics of Gen Z, their relationship to technology, and their educational expectations. Renee Robinson, Ph.D., will lead the discussion on tangible methods for engaging this generation in a higher education classroom, we will create transparent assignments together using the TILT method, and you will leave the day with a better understanding of the needs of this cohort. View the workshop agenda and register for Educating Gen Z.
Categories: Science and Technology