Spring 2022 Faculty Technology Update
Friday, January 7th, 2022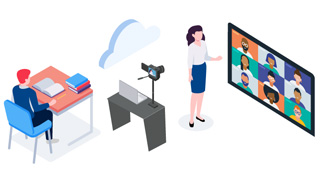 As announced by the Health Intervention and Communication Team, the University will pivot to a remote synchronous teaching and learning modality, for most classes, until Monday, January 31, 2022.
Faculty are encouraged to post in their Blackboard courses and/or email their students which technology, Teams or Blackboard Collaborate, they will use to facilitate the remote sessions and how students should access them.
Faculty Workshops
The Teaching, Learning, and Technology Center is hosting a variety of virtual workshops to help faculty in preparing to teach remotely. Workshops will focus on Microsoft Teams, Honorlock remote exam proctoring, alternative activities for assessments in a remote environment, and creating an engaging remote class session.
In addition to the workshops, the TLT Center is standing by to assist faculty in preparing to teach remotely. Our website contains a helpful guide for creating and posting materials and communicating with students. If you need more assistance than what is available on the website, please reach out to your assigned Instructional Designer who can help you with developing new strategies to make courses more engaging, facilitate group work, discussion, or alternative assessment methods.
Teaching Remotely with Teams
The Department of Information Technology has created a team for each Spring 2022 course that includes all enrolled students. For cross-listed courses, we have created a combined team, with a course team name that is a combination of the cross listed course codes. For example, CORE1234AA cross listed with CAST1234AA, the new combined course team is CORE1234AA-CAST1234AA and includes all enrolled students. Please be sure to utilize the combined team if you are teaching a cross listed course.
Important Reminder: Faculty need to activate each course team prior to starting the class. A short video is available to explain the activation process.
Faculty are encouraged to schedule classes in Teams by selecting the Schedule a meeting option in the respective Spring 2022 course section. Scheduled meetings will appear on the instructor and student calendars. Instructions for creating a recurring meeting are available here.
Teaching Remotely with Blackboard Collaborate
A Blackboard site has been automatically created for each Spring 2022 course. To request a cross-listed site in Blackboard, please open a ticket via the Self-Service Portal. To start class, open Blackboard and click on the Spring 2022 course you wish to teach. In the menu under Details & Actions, locate Blackboard Collaborate and click Join session and then select Course Room.
Teaching Remotely from your Classroom
The TLT Center will redeploy temporary remote teaching equipment to the classrooms where cameras and A/V equipment may not be available. This will allow faculty who would rather teach from their classroom to do so while students are participating remotely. All classrooms have the ability to connect your computer to the room audio-visual equipment. A guide to using the room technology is available for Teams, Standard, and IHS classrooms.
Please check the classroom directory to determine which kind of classroom your course is assigned to this semester. The directory has been updated, complete with an inventory of available technology, floorplans, and photos of classrooms, to assist you in determining which technology is available to you. Faculty in need of room technology training may attend an in-person training session.
Technology Support
Adjunct faculty in need of a loaner laptop to conduct class may request a loaner by scheduling an appointment with PC Support Services in Corrigan Hall using the Self-Service Portal.
Our Technology Service Desk is available 24/7 for software help and other questions. These services are available remotely in one of four ways: opening a ticket, live chat, email: [email protected], or by phone at (973) 275-2222.
Categories: Science and Technology