Shop Safely this Holiday Season
Wednesday, November 15, 2023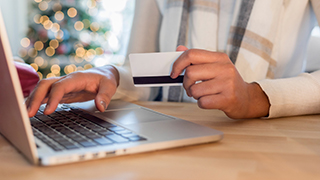 As we near Black Friday and Cyber Monday, you may be focused on snagging the perfect holiday gift for a fraction of the regular price. While many legitimate retailers offer deals and discounts this time of year, it's crucial for shoppers to remain vigilant against deceptive and malicious holiday scams.
Bad actors employ a variety of elaborate and sophisticated tactics to obtain personal and banking information. Commonly, scammers impersonate representatives from reputable, established companies to deceive victims into providing their information. In fact, Amazon has reported a recent surge in Prime scams where users receive notifications warning them of potential account suspension unless immediate action is taken. Victims are then directed to disclose their Prime login credentials or payment information, either on a spoofed website or over the phone. This holiday season, protect yourself against common holiday scams by practicing safe shopping habits.
The Don'ts of Online Shopping
Don't connect to unsecure public Wi-Fi, especially to do your banking or shopping.
Don't click links or download attachments from emails unless you are certain of where they came from.
Don't provide your password, personal or financial information in response to an unsolicited email request. Legitimate businesses will not ask you to provide your information in this way!
Don't checkout without first verifying the legitimacy of the site. Before making a purchase, verify the authenticity of the website by manually typing the retailer's URL into your web browser, especially if you landed on the page through a link in an email or online ad.
Ready to Place Your Order?
Your shopping cart is calling, filled with must-haves and favorite finds. Here are easy-to-follow methods for secure checkout.
Use a credit card instead of a debit card. There are laws that limit your liability for fraudulent credit card activity, but you may not have the same level of protection for your debit card.
Make sure your information is secure and encrypted. Signs that you are shopping from a secure site include a URL that begins with "https:" and displays a closed padlock icon.
Check your credit card and bank statements regularly. Reviewing your account activity will allow you to immediately notify your bank and local law enforcement should you notice fraudulent charges.
Report Holiday Scams
If you believe your personal or financial information has been stolen, first contact your local police department to file a report and obtain a case number. You may be asked to provide the case number when alerting your bank or financial institution to the scam. You should also report phishing attempts and active scams to:
Seton Hall's IT Security Team: If you receive a suspicious email, forward it to IT Security for investigation by clicking the "Report Phish" button on your Outlook taskbar.
Cybersecurity and Infrastructure Security Agency (CISA): File an incident report to notify the agency of phishing attempts, malware, and other cybercrimes.
Federal Trade Commission (FTC): If your information has been stolen, the FTC will help you create a personal plan to help you report and recover from identity theft.
Categories: Science and Technology