Seton Hall University Students Prepare for Annual Cyber 9/12 Strategy Challenge
Tuesday, February 21st, 2023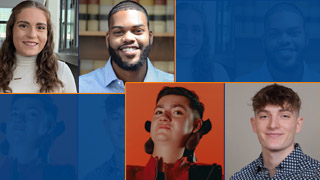 A team of talented Seton Hall University undergraduate students is gearing up to compete virtually in the upcoming Atlantic Council's Cyber 9/12 Strategy Challenge. Known as the "Top Hatters," the team received official notice that they have been selected to advance to the competition round following the submission of an initial cybersecurity and diplomacy essay. The Cyber 9/12 competition will be held both virtually and in Washington D.C. on March 17-18, 2023, and presents an excellent opportunity for students from a variety of disciplines to apply what they have learned in the classroom to real-world scenarios.
The Top Hatters team consists of undergraduate students Nicole Gizzi, Joseph Lakhman, Tristano DiLiberto, and Alvin Oliver II, and is coached by Eric Lopez, a security architect and adjunct professor at Seton Hall. "Each Cyber 9/12 competition requires competitors to address diplomatic, social, geopolitical, and cybersecurity scenarios, presenting their solutions to executives and other experts in the related fields," explains Coach Eric Lopez. "They also receive feedback from these experts, providing them with a means to learn as well."
The Cyber 9/12 competition is a unique and exciting event that challenges students to respond to a realistic cyber incident that includes legal, policy, and strategic elements. The competition helps shape the next generation of cybersecurity professionals, policymakers, and lawyers and their ability to face complex cyber threats. Sponsored by the nonpartisan think tank Atlantic Council, the competition engages over one thousand students globally and has expanded its reach to include regional competitions across the United States, as well as in London, Dundee, Geneva, Paris, and Cape Town. The Top Hatters are excited to participate in the upcoming competition and are currently preparing for the event.
Eric Lopez was the coach for Seton Hall's previous team, which finished in the top 16 of the Geneva 9/12 Challenge in 2022. The team was one of five universities from the United States to compete in the challenge and the only institution from the United States to advance to the semi-final round of the competition. The success of the team led to the creation of the Cybersecurity Club in 2023, adding to Seton Hall University's wealth of academic programs, events and resources aimed at preparing students for a successful career in cybersecurity. The club will serve as a pipeline for the development of Seton Hall teams to compete in future competitions.
Categories: Science and Technology