Seton Hall Begins 3D Printing Face Masks
Saturday, April 18th, 2020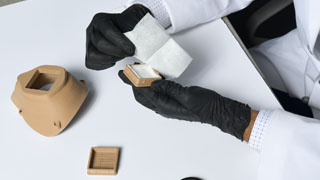 As hospitals and frontline workers struggle to get access to enough medical equipment to deal with the rapid spread of coronavirus, the staff in the Teaching, Learning, and Technology Center is using 3D printing technology to assist essential University staff in reporting to campus on a limited basis. By utilizing the existing 3D printing technology in Space154, the university will be able to print personal protective face masks for essential university employees that may need to come to campus.
John Signorello, Associate Vice President for Facilities and Business Affairs was unable to procure personal protective gear for his essential staff due to supply shortages. "Our safety and warehouse staff have been calling all our vendors and scanning the internet for PPE supplies. What we find are limited supplies, long wait delivery times, and high prices," said John. Signorello collaborated with the staff in the TLT Center for an in-house solution. According to Paul Fisher, Associate CIO at the University, "The idea struck us, that we might be able to make our own masks to allow critical work to get done on site." The ability to produce personal protective gear, utilizing existing University resources, is a great resource for Signorello and his staff. "We know we are going to need them now and for the foreseeable future," John added.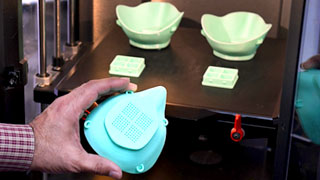 The 3D mask, originally designed and released by Rowan University, was designed to address a shortage of personal protective equipment for New Jersey health care workers. The face mask features a replaceable filter that can be fitted with readily available sterile, nonwoven materials and can even be dipped in hot water and molded to the individual's face. Although the 3D printed mask is not intended to substitute N95 masks, it provides a mechanical barrier that meets the requirements for non-healthcare workers, as per CDC guidelines. The mask can be washed, disinfected, and reused, a feature desperately needed while disposable and other types of masks are in short supply.
The Rowan University designed masks were tested by health care providers at Cooper University Healthcare and Inspira Health. Meanwhile, the TLT Center staff has successfully printed a prototype and will be able to produce up to 20 masks per week utilizing the available 3D printers in Space154.
During the academic year, Space154 is a collaborative space where faculty, students, and the Seton Hall community can come to participate in a variety of learning experiences. The space features emerging technologies including 3D printers, Autodesk 3D design software, Arduino and Raspberry Pi computer kits, and text mining/analysis software. The TLT Center coordinates workshops that focus on everything from using social media for learning to virtual reality and 3D design as it introduces new and emerging technologies to both students and faculty.
Categories: Science and Technology