What's New in Microsoft Teams
Wednesday, February 15th, 2023
Co-organizer to Manage Breakout Rooms
Users assigned the co-organizer role are now able to create and manage breakout rooms on behalf of the organizer. This setting can be enabled in Meeting Options. When rooms are opened, co-organizers have the same ability as organizers to join and move freely between breakout rooms. They are also able to:
Create rooms
Configure room settings, including appointing additional Breakout Room managers
Assign participants
Add/Remove rooms
Open/Close rooms
Send announcements
Rename/Delete rooms
Co-organizers are not able to pre-create rooms or pre-assign participants ahead of the meeting's start. Breakout room creation/management is only possible during the live meeting for co-organizers.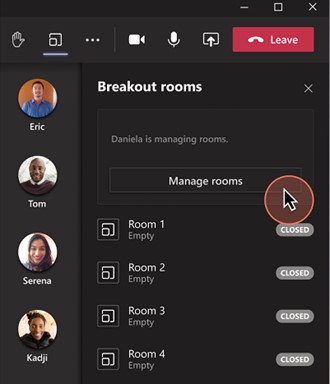 'Class' and 'Lecture' Meeting Templates
When scheduling a new Teams meeting, you can now select the 'Class' and 'Lecture' meeting templates. These two new templates have pre-configured meeting options to save you time!
'Lecture' Meeting Options:
Waiting room enabled for attendees
Only organizers/co-organizers can present
Allow microphones and cameras for attendees
Meeting chat enabled
Reactions enabled
Allow attendance report
'Class' Meeting Options:
Waiting room enabled for attendees
Only organizers/co-organizers can present
Allow microphones and cameras for attendees
In-meeting only chat enabled
Reactions enabled
Allow attendance report
Delete Chats in Teams
You can now delete 1:1 chats, group chats, and meeting chats from the Teams desktop or mobile application. To clear a chat from your chat list, select the ellipsis (three horizontal dots) next to the chat and click the Delete Chat option. This action will only permanently delete the chat for you, others in the chat and conversation history will not be impacted.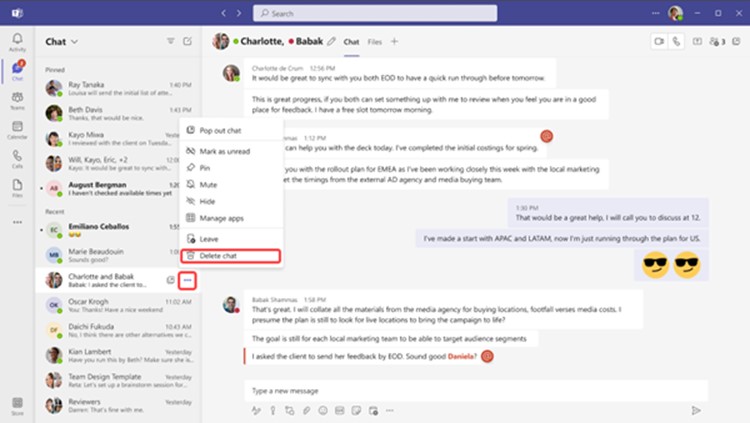 Add People to a Group Chat via @ Mention
Teams Chat facilitates faced-paced communication. You can now use the @mention as a shortcut to add someone to a group chat directly from the compose box.
Expanded View of the Profile Card in Teams
The expanded view of profile cards is now available in Teams. Similar to the expanded view in Outlook, profile cards in Teams now includes an overview of the profile, contact information, organizational chart, and LinkedIn tab.
Coming Soon to Microsoft Teams
Schedule Send for Teams Chat (March 2023)
Teams is introducing the schedule send feature to support better work-life balance and flexible schedules. This feature allows you to schedule chat messages to be delivered to the recipient during their work hours. You can schedule messages to be delivered both on desktop and mobile. Additionally, all scheduled messages can be edited and deleted before they are delivered.
Ultrasound Howling Detection in Teams Meetings (March 2023)
Currently in Microsoft Teams, when multiple users are in a Teams meeting in the same room, a feedback loop is created causing an echo. With this update, if you join a meeting that already has other participants in it from the same physical location, you will be notified before joining the meeting that your speaker and microphone will be turned off to prevent an echo. You can turn the switch back on at any time.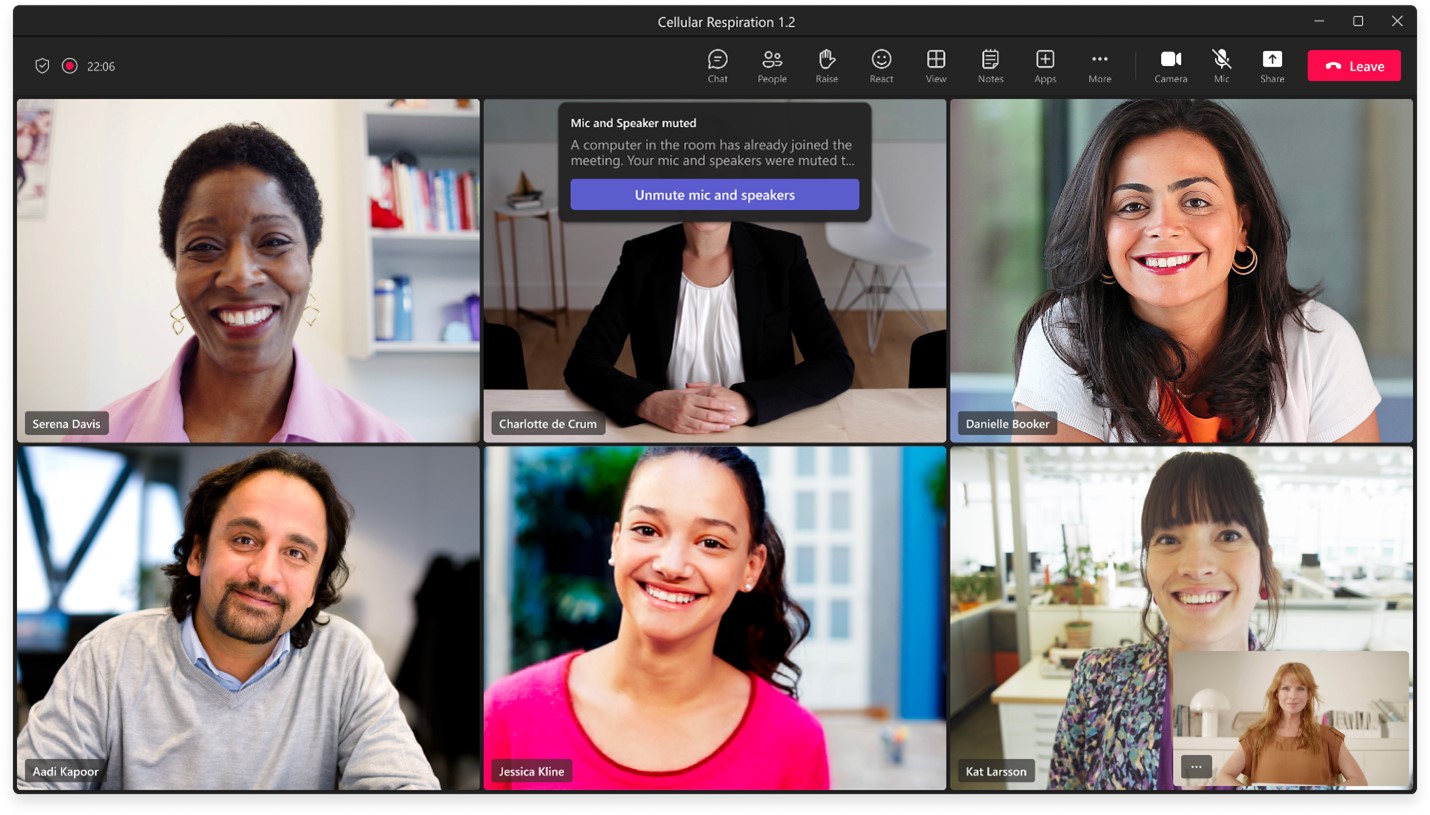 Video Filters in Teams Meetings (April 2023)
Video filters will allow you to augment your video stream with visual effects, such as frames and styles. To apply video filters, you will need to give consent to install the apps. You can browse and select video filters from the pre-join screen and in-meeting scenarios. During pre-join, users can access video filters from the quick tray once they have their camera enabled.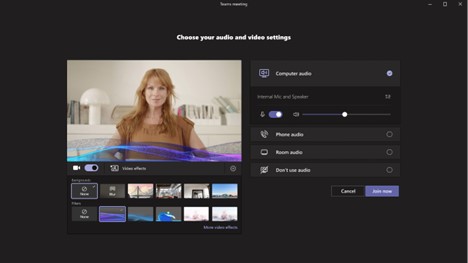 After joining a meeting, users will be able to apply effects from the meeting toolbar by clicking the video effects button under the More menu.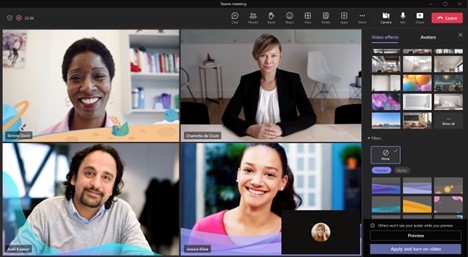 'Forms' app polling feature will be replaced by 'Polls' app (September 2023)
Once retired, you will no longer be able to add the polling feature in the Forms app to your meeting for polling experiences. To provide an intuitive and easy-to-access experience, Polls app was launched - a dedicated app for all your polling and quiz needs in Teams meeting and chat. By using Polls, you will enjoy the following benefits:
Dedicated Solution: With a dedicated app for polling and quizzes, you can focus on what matters most – gathering information accurately and efficiently.
Dynamic Experience: Enjoy a dynamic user experience with animations in voting process and result views.
Better Engagement: Engage with attendees with various poll types - Word Cloud, Multiple Choice, Rating, Ranking and Image support.
In preparation for this transition, your polls and response data in Forms app will be automatically synced to Polls app. All you have to do is add the Polls app to your existing or upcoming meetings/chats, and you're ready to go!
Categories: Science and Technology