LinkedIn Learning Champion Program Application Available
Tuesday, September 8th, 2020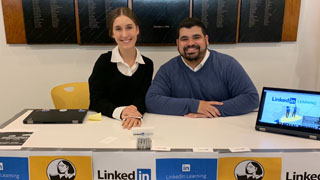 Whether you are hoping to land an awesome job or build skills to support your academic success the unique experiences you gain in the LinkedIn Learning Champion Program will set you up to always be learning and will set you apart from the competition in the job market
As a learning champion you will support your peers in leveling their skills, so they can confidently tackle all challenges faced during their time in higher education and get them career ready.
In addition, you will get an inside look into LinkedIn Learning and LinkedIn. You will receive advanced training, resources and support from LinkedIn
Applications are due September 30, 2020. Apply now
Benefits
Professional Brand

Build online presence connected to your academic & career goals
Share what you're learning in LinkedIn Learning's Library
Cultivate new skills around branding, marketing, & communication

Writing

Find your authentic voice
Write about your experiences from newly acquired skills to meaningful connections with others
Publishing articles on LinkedIn, personal blogs & in the campus newspaper

Public Speaking

Prepare a speech or presentation
Gain practical experience in delivering a presentation to a targeted audience
Create a training session or host a webinar
Present virtually or faceto-face

Team Building

Focus on collaboration & leadership skills
Communicate to a team or organization
Building projects with fellow students like a Learning Week Campaign, a LinkedIn Learning Conference or a LinkedIn Learning Bootcamp

Reflection

Reflect on what professional skills you've gained & put into practice
Critically give feedback on how to improve the program for future cohorts
Summarize a capstone project in either a 350word essay or 3-minute video
How it Works
The LinkedIn Learning Champion program extends over the course of 6 months. Students define initiative & execute projects while managing their academic workload.
Join the group
Complete 2 courses
Attend a live virtual training
What Champions Do
Be a LinkedIn Insider

Build a professional brand with your LinkedIn profile.
Get inside knowledge on data insights.
Leverage all the insider tools & resources

Grow your skills

Identify your interests & potential career options.
Use data to pinpoint the exact skills you need.

Inspire others

Elevate your skills by helping others discover their learning goals.
Share the benefits of LinkedIn & LinkedIn Learning.
Become an inspirational leader on your campus.
Categories: Science and Technology