Faculty Innovation Grant Leads to Graphic Design Awards for Seton Hall Students 2022 – 2023 Faculty Innovation Grant: Adobe Creative Project Recipients:
Thursday, February 9th, 2023

Natalia Azar's award-winning project entitled, "Peace of Mind".
Seton Hall University's Art and Design students, Natalia Azar '23 and Victoria Rivero '23, were recipients of GDUSA's American Graphic Design Awards, thanks in part to the Teaching, Learning, and Technology Center's Faculty Innovation Grant that allowed them to explore cutting-edge technologies and industry trends. The competition, which attracted over 14,000 entries from large creative agencies and departments, boutique design studios, freelancers and students, honors excellence in effective designs that shape commerce and culture. The students' submissions, which began as class projects, earned recognition in both the "Designing for Good" and "Student Design" categories for their innovative use of Augmented Reality (AR) in social media platforms designed to promote positive mental health.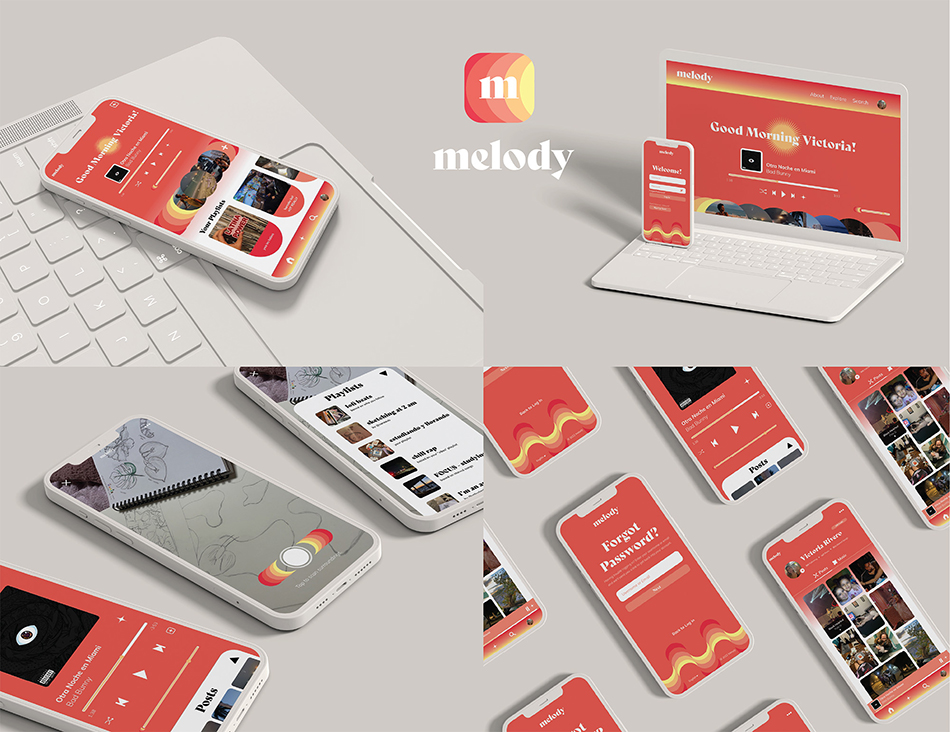 Victoria Rivero's award-winning project entitled, "Melody".
Christine Lhowe, assistant professor in the College of Communication and the Arts, was the recipient of the 2021-2022 Faculty Innovation Grant that enabled the students to explore AR in the classroom. With the help of the Teaching, Learning, and Technology Center (TLTC), Professor Lhowe retooled Web Design II to examine the symbiotic relationship between digital and physical worlds and challenge students to think critically about how their digital experiences affect their "real" lives. Through hands-on experimentation, students learned the fundamentals and real-world applications of AR in the web design field.
"With Augmented Reality becoming commonplace on web and mobile devices, we are pedagogically shifting to equip students with the necessary skills to design for mixed realities," said Professor Lhowe. "The Faculty Innovation Grant I received not only provided me with the time and resources needed to infuse AR in Web Design II, but it also gave me access to the training and support from the TLTC that allowed me to pilot the new curriculum."
The 2022-2023 Faculty Innovation Grants are focused on the use of an Adobe Creative Cloud tool to enhance digital literacy skills in the classroom. The TLTC, together with the Faculty Senate IT Committee and the Digital Humanities Committee, award proposals that aim to cultivate and innovate through the creation or application of learning objects, resources, or innovative approaches using one or more of the Adobe Creative tools to enhance or replace a class project. The chosen project or activity should focus on one or more of the following digital literacy skills:
Critical thinking & Evaluation
E-Safety
Cultural & Social Understanding
Collaboration
Curate Information
Proficient Communicator
Creativity
Practical & Fundamental Skills
Awardees agree to serve on a Teaching Learning and Technology Roundtable committee and present their project at a TLTR event in the future. All full-time faculty are eligible. Working with the TLTC, faculty will create a 'How To' document so that other faculty may benefit from their experience. All projects must be implemented before May 15, 2023. The project stipend is $500.00. 
The Faculty Innovation Grant proposal submission deadline has been extended. Proposals will be reviewed on a rolling basis through March 31, 2023. Learn more about the grants and submit a proposal.
2022 – 2023 Faculty Innovation Grant: Adobe Creative Project Recipients:
Edmund Adjapong 
College of Education and Human Services, Educational Studies 
Course: EDST 3510 Culture, Community & Schools 
Proposal Title: Multimodal Racial Literacy Assignment
Erik Hill 
College of Arts and Sciences, Department of Biology 
Courses: BIOL 3411 (Microbiology) and BIOL 1223 (General Biology 2 Lab) 
Proposal Title: Student Visual Recordings of Biology Lab Procedures
Nathan Kahl 
College of Arts and Sciences, Mathematics and Computer Science 
Course: MATH 3913 Junior Seminar 
Proposal Title: Mathematical Exposition via Animation and Video
Elizabeth A McCrea 
Stillman School of Business, Management 
Course: BMGT 4565 AA Creativity & Innovation 
Proposal Title: Creativity & Innovation Team Challenge Pilot Assignment Redesign 
Madison A Krall 
College of Communication and the Arts
Course: COMM 2135 AA Communication Research Methods 
Proposal Title: Creating an Oral History Project Using Adobe Premiere Rush 
Abdul Rehman Khan 
School of Law 
Course: CLIN 7180 WW Civil Litigation and Practice Clinic 
Proposal Title: Legal Design & Game Development  
Axel Takacs 
College of Arts and Sciences, Religion 
Course: RELS 3497 AA Arts and Literatures of Islam and Muslim Cultures 
Proposal Title: Embodied Learning through the Creative Arts 
Categories: Science and Technology