Seton Hall Hosts Expert Panel on NFL
Thursday, April 13th, 2023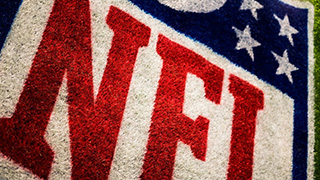 On the brink of the 2023 NFL Draft, the Center for Sports Media at Seton Hall University will present "The NFL: Money, Power, Respect," a conversation featuring a panel of experts on the National Football League and its rise to utter domination of the American sports scene.

The Center's founder, Bob Ley '76, will moderate the conversation between former NFL player and two-time Super Bowl champion Damien Woody, NFL Players Association Assistant Executive Director George Atallah, and ESPN's NFL analyst Kimberley Martin and two-time Pulitzer winner Don Van Natta .

"The NFL's profile — as a sports league, as a business monolith, and as a cultural symbol — has grown geometrically in recent years," said Ley. "I'm looking forward to exploring that success, and the questions that arise from it. We couldn't have more qualified individuals to dig in on this."

Jane McManus, inaugural executive director of the Center for Sports Media, agreed. "This is a league that manages to parry scandals that might leave a mortal wound in other leagues and institutions, while still enjoying the highest ratings that remain in a changing broadcast landscape. Our guests are perfectly positioned to offer our students and audience a look at the behind-the-scenes efforts the league has undertaken around revenues, sports betting, owner accountability, ratings and player safety."

The event is scheduled for Monday, April 24 at 3 p.m. in Jubilee Auditorium and will be livestreamed for those who cannot attend. "The NFL: Money, Power, Respect" is part of a slate of recent events the Center has held, including a long-planned Sports and Spirituality conversation in collaboration with the Institute for Communication and Religion, and its Feb. 16 event on the economics of women's sports with Billie Jean King and Ilana Kloss. The recordings for those events may be found at this link.

Registration for in-person attendance as well as the link for the livestream may be found here.

About the Center for Sports Media

Established in Fall 2021, the Center for Sports Media within the College of Communication and the Arts provides an interdisciplinary foundation for academic training and theory with practical experience pertinent to excellence in the Sports Media discipline. The Center redefines how students are trained in media, communications, sports business, engaging with the sports community, and producing groundbreaking content through University channels and partnerships with major media outlets.
Categories: Center for Sports Media