Packed Gala Celebrates New Center for Sports Media, Bob Ley and Robin Roberts
Thursday, September 22, 2022
This video says it all. On September 15, Seton Hall's Center for Sports Media hosted a gala at The Lighthouse at Chelsea Piers, NYC, celebrating its lead funder, Bob Ley '76, and honoring media icon Robin Roberts with a Lifetime Professional Achievement Award.
The setting sun glistening on the Hudson wasn't the only thing making faces sparkle. Over 160 media educators and professionals coming together to help launch the Center filled the room with good cheer and a spirit of solidarity.
At the top of the evening's program, President Nyre shared with guests the amount of Bob Ley's gift which established the Center back in Fall 2021: $2 million. The University will forever be grateful for Bob's largesse, as well as his vision and leadership which have set the Center on a course for success. The event has raised an additional $380,000 for the Center from several generous donors: 75 percent of the way towards the gala goal of $500,000.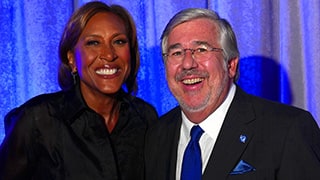 Executive Founder of Seton Hall University's Center for Sports Media Bob Ley '76 presents a Lifetime Professional Achievement Award to reporter, broadcaster, producer and host of Good Morning America, Robin Roberts, September 15, 2022, New York City. Photo by Getty Images.
When Robin Roberts arrived to accept her award, she greeted her friends from the industry, met with university leadership and communications faculty, and gave the sports media students who were present a special and unexpected treat. After a photo op with the students, Robin turned around and asked them questions and shared her advice and encouragement as the students listened attentively, rapt by her wisdom and charm.
The Administration, faculty, and students in the sports media program worked alongside the staff at University Advancement to organize the event. They received support and guidance from several prestigious gala committee members:
Bob Ley '76, Executive Founder of the Center for Sports Media
George Bodenheimer, former president of ESPN
Larry Ganim, founder of Ganim Financial
Jay Harris, anchor of ESPN's SportsCenter
Chris McKendry, tennis host at ESPN
Jane McManus, Executive Director of the Center for Sports Media
Kevin Negandhi, anchor of ESPN's SportsCenter
Jim O'Brien '82, Sr. Managing Partner and CEO of Napier Park Global Capital
Jon Paparsenos '99, Vice President for University Advancement
Renee Robinson, Ph.D., Interim Dean of the College of Communication and the Arts
Bardia Shah-Rais '95, VP of Production for FOX Sports
Leo Zatta '78, Chairman of Team Walker, Inc.
…and honorary committee members:
Chris Berman, NFL studio host at ESPN
Don Garber, Commissioner of Major League Soccer
Jimmy Pitaro, President of ESPN
Sports journalist, broadcaster, writer, and filmmaker Jeremy Schaap was emcee for the evening, and FOX Sports play-by-play broadcaster John Fanta '17, graduate student Wilnir Louis '21, and sophomore Belle Wiseman joined Executive Director Jane McManus in "Pirates on Deck:" a discussion of their experiences studying sports media at Seton Hall.
The Center for Sports Media has been launched with the backing of some of the major players in the industry. University Advancement will continue to raise funds to reach the $500,000 goal and invites anyone interested in learning more to contact Brian Ruark, Associate Vice President for Development at [email protected].
Categories: Arts and Culture