Center for Sports Media Hosts Kenny Albert, Kicks Off Speaker Series
Thursday, September 14th, 2023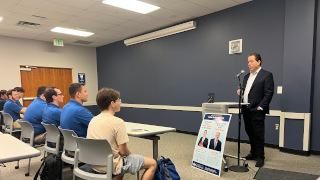 During the event, Kenny Albert focused on his journey into sports broadcasting — inspiring and informing students about the world of sports media.
Seton Hall's Center for Sports Media hosted another accomplished sports figure as their speaker series gets up and running for the 2023-24 academic year. After hosting Alex Rodriguez, Billie Jean King and Ilana Kloss last academic year, one of the first speakers this year was FOX sportscaster and New York Rangers radio play-by-play man Kenny Albert.
The talk was held in the Beck Rooms of the University Library on September 12, and was attended by many interested students and various student-run media outlets on campus, including Seton Hall's radio station, WSOU 89.5 FM. Before opening the floor for a Q&A session, Albert discussed his childhood and journey into broadcasting.
Albert, the son of renowned sportscaster Marv Albert and the nephew of Al and Steve Albert, grew up in the world of sports broadcasting. He detailed the story of the when he began calling games. On his fifth birthday, his parents got him a tape recorder to practice calling games. Albert would bring it with him to games, recalling, "I'd find an empty space at MSG or Shea Stadium and just call the game for myself."
After describing his career from his sophomore year of high school to his current position, Albert opened up the floor to student questions.
One question that intrigued Albert was how he manages the transition from calling games on TV to radio, as these mediums require different skill sets. Albert stated that he loves both radio and TV, but "radio is where you learn the fundamentals." He also touched on how calling games for TV is so different because the audience can visually follow the action.
This difference was exemplified in what Albert said is his most asked-about call – Jose Bautista's 3-run homerun in the 2015 ALDS. He recalled, "I made the call and got out of the way." As a play-by-play announcer, he remarked, "It's funny. I got praised for not talking."
Students left the event feeling informed and excited. Senior and Assistant Sports Director at WSOU Jon Heite said, "The Kenny Albert event provided the audience with a ton of valuable insight from one of the best voices in all of sports. I enjoyed all the stories he told from his career and the advice he shared about commentating at the highest level, which included needing to have both dedication and preparation to make it in the business."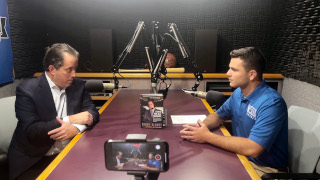 WSOU Sports Director Michael Federico also interviewed Kenny Albert after the event, taking a deeper dive into his legendary broadcasting career.
After the event, WSOU Sports Director Michael Federico was able to interview Albert and take a deeper dive into his legendary broadcasting career, as well as garner advise for young sportscasters. When asked which sport is the hardest to prepare for, and which one is his favorite, Albert replied, "That is a lot like asking which is your favorite kid! To prepare, I go through the same checklist for each sport, which involves a lot of reading, watching prior games, going to practices, talking to players and coaches. I probably spend 20-40 hours preparing for a football game, but there's only one game a week. In hockey and basketball, the teams are playing a lot more frequently and you're keeping up with the teams, so it's similar preparation but not as many hours." Listen to the full interview here.
The Center for Sports Media continues their speaker series on September 28 at the University Center Theatre with "Covering the NFL 101," featuring Peter King. Register for the event here.
About Seton Hall's Center for Sports Media
The Center for Sports Media within the College of Human Development, Culture, and Media redefines how students are trained in media, communications, sports business, engaging with the sports community, and producing groundbreaking content through University channels and partnerships with major media outlets. Established in Fall 2021, the Center for Sports Media provides an interdisciplinary foundation for academic training and theory with practical experience pertinent to excellence in the Sports Media discipline.
Categories: Business