Phyllis Hansell Elected as Vice-Chairperson of Catastrophic Illness in Children Relief Fund Commission - Seton Hall University
Thursday, June 15th, 2023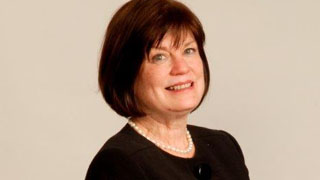 Phyllis Hansell, Ed.D., R.N., FNAP, FAAN, has recently been elected by the members of the Commission as the Vice-Chairperson of the Catastrophic Illness in Children Relief Fund Commission in the Executive Branch of the New Jersey state government. Appointed to the Commission by the New Jersey governor, Hansell serves alongside an interprofessional team of health professionals. She has been selected as one of the five public members of the Commission, which also includes ex-officio members such as the Commissioners of Health, Human Services, Children and Families, Banking and Insurance, and the NJ State Treasurer.
Established in 1988 by then Governor Thomas Kean, the Catastrophic Illness in Children Relief Fund aims to provide financial assistance to New Jersey families with children who have illnesses or conditions not covered by insurance, state or federal programs, or other sources such as fundraising efforts. The Fund plays a crucial role in helping families cope with the financial responsibilities associated with their children's significant health problems. To qualify for assistance, the child's medical expenses must exceed 10% of the family's first $100,000 of income or 15% of income over $100,000. In the last fiscal year, the Commission approved $5.3 million in grant awards on behalf of 203 children in New Jersey.
"I am honored to have been elected as the Vice-Chairperson," expressed Hansell. "This opportunity allows me to leverage my experience and passion for improving the lives of children and families facing significant health challenges."
Hansell brings a wealth of knowledge and experience to her new role. She is a distinguished professor and former dean of the College of Nursing, and her professional journey has been centered around caring for children with cancer and supporting families coping with the care of seriously ill children. Over time, Hansell expanded her focus to include families dealing with children infected with HIV, conducting research to enhance their coping abilities and improve their holistic healthcare outcomes.
In addition, Hansell actively engages in various professional and community activities. She has served as a trustee for both the Partners for Health Foundation in the Montclair Area and the New Jersey Institute for Nursing. Additionally, she is a member of the Nursing Advisory Board for Gannett Healthcare and contributes as a member of the Editorial Review Boards for the Journal of Interprofessional Education and Practice and The Sage Open Nursing Journal. She is also a reviewer for prestigious nursing journals such as Nursing Research, the Western Journal of Nursing Research, and the Journal of Nursing Measurement. Hansell has been recognized as a Fellow in the American Academy of Nursing, as a Distinguished Practitioner of the National Academies of Practice and has served as a Commissioner for the National Commission on VA Nursing. Furthermore, her expertise has been sought globally, as evidenced by her role as an External Examiner for the University of Botswana.
Hansell's educational background is equally impressive. She pursued post-doctoral studies in Biostatistics at the Memorial Sloan-Kettering Cancer Center in New York, NY. She holds an Ed.D. from Columbia University, specializing in Parent Child Nursing and Nursing Education, as well as an M.Ed. from the same institution. Her nursing career began with a Diploma in Nursing from the Mount Sinai Hospital School of Nursing in New York, NY. She was recognized by Seton Hall with a Bishop Bernard J. McQuaid Medal for Distinguished Service, as well as by Columbia University Nursing Education Alumni Association with a R. Louise McManus Medal.
"I am committed to working collaboratively with the Commission and our interprofessional team of health professionals to ensure that we provide vital financial assistance to New Jersey families in need," she said. "Together, we will strive to alleviate their burdens and enhance their ability to cope with the responsibilities that accompany their children's health problems." Phyllis Hansell, a professor and former dean of the College of Nursing, has been elected as the Vice-Chairperson of New Jersey's Catastrophic Illness in Children Relief Fund Commission.
Categories: Campus Life, Health and Medicine