College of Nursing Ranks Top 5 Catholic, Top 10 Percent in Nation, According to US News
Friday, September 16th, 2022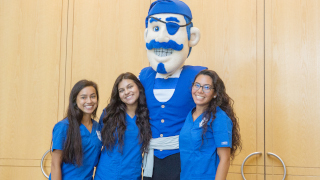 The College of Nursing rose 25 points in the most recent U.S. News & World Report ranking of undergraduate nursing programs, placing it at 51. U.S. News ranked a total of 681 undergraduate Nursing programs across the United States.

That ranking at 51 places Seton Hall among the top 7 percent of programs nationally – and No.1 in New Jersey.
Among Catholic colleges and universities, Seton Hall's Nursing program ranked Top 5 in the nation – tied for the honor with three other schools.
Among area universities, Seton Hall is ranked ahead of Rutgers (New Brunswick and Camden), TCNJ and Felician as well New York's Pace, Adelphi and all SUNY schools as well as Pennsylvania's Drexel and Temple universities.
"We are honored to be recognized by our peers as one of the nation's best nursing programs," said College of Nursing Dean Marie Foley, Ph.D., R.N. "We are New Jersey's oldest College of Nursing and its best. For 85 years now it has meant something to be a 'Seton Hall Nurse' and our students have proven themselves time and time again on the front lines of health care, hospitals and clinics all across the world. This latest recognition is a testament to their hard work and the dedication and expertise of our world-class faculty."
Earlier this year, U.S. News ranked Seton Hall's Online Graduate Nursing Program as one of the top online graduate nursing programs in the nation, ranking 15th in 2022, up from 27 the previous year. Placing 15th out of 194 schools chosen for inclusion by U.S. News this year puts the Seton Hall program in the Top 8 percent nationally.
For the past three years, Seton Hall's College of Nursing has had the top-ranked online graduate nursing programs in New Jersey and ranked third among all Catholic universities in the country.
U.S. News & World Report's 2022 Best Nursing Schools guide also highly ranked the College of Nursing's Master of Science in Nursing (M.S.N.) and Doctor of Nursing (D.N.P.) programs, marking them as top programs in New Jersey.
Seton Hall University's College of Nursing was recently awarded a $3.6 million grant by the Department of Health and Human Services, Health Resources and Services Administration (HRSA) through its Nurse Education, Practice, Quality and Retention-Mobile Health Training Program.
"The Seton Hall University College of Nursing and the City of Newark's Nurse-led Mobile Health Training Project" will allow graduate students in the College's adult-gerontology primary care, pediatric primary care and the new psychiatric-mental health nurse practitioner programs to engage in a semester-long clinical experience on the mobile health care units in Newark, New Jersey. During the first year of the grant, 19 nurse practitioner students will engage in this clinical experience completing a range of 120-160 hours of precepted clinical training on various days and locations of the mobile health care units.
To learn more about Seton Hall's College of Nursing and its highly ranked programs, visit https://www.shu.edu/nursing/
Categories: Health and Medicine