Accelerated Nursing Program's New Location Boasts More Space, New Labs
Thursday, September 8th, 2022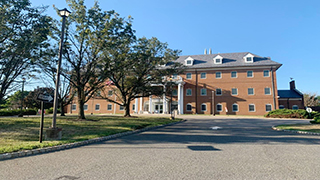 The College of Nursing's Second-Degree Accelerated BSN program (ABSN) has moved to a new location in Freehold, New Jersey.
Recognizing a need for more room and updated labs for incoming students, Seton Hall University's Second-Degree Accelerated BSN program (ABSN) has moved from its previous location in Lakewood to Freehold, New Jersey.
"Our new facility provides increased educational space for the Accelerated BSN Program, providing opportunity for expansion," said Marie Foley, Ph.D., R.N., C.N.L., dean of the College of Nursing. "The application history showed that many qualified students were not offered admission to the program due to lack of space. This move enables an increase in admissions as well as new state-of-the-art equipment and classroom space."
Seton Hall's ABSN program is a 14-month cohort model for those who already hold a non-nursing bachelor's degree. It prepares students to practice nursing in a range of settings — from ambulatory care and community-health agencies to acute and long-term care facilities.
The program is also offered on Seton Hall's Interprofessional Health Science Campus in Nutley, New Jersey, with a January start date as opposed to the August start date in Freehold.
Per Foley, the ABSN was initially offered on Seton Hall's South Orange campus in the 1990s. "Seeing a need for ABSN programs in the southern part of the state, the College took an opportunity to expand the program to the Georgian Court University campus in Lakewood, New Jersey, in 2004. One classroom was rented for the program, plus a laboratory located at Ocean Medical Center in Brick, New Jersey."
In 2021, the College began searching for a new space, which was eventually secured at an offsite educational building owned by Brookdale Community College on Route 9 in Freehold, which is convenient for students coming from Ocean, Monmouth, and Middlesex counties.
"It was difficult to move out of our location at Ocean University Medical Center and Georgian Court University after 20 years," said Program Director of the ABSN Program Linda Ulak, Ed.D., R.N. "It was comfortable there, but we outgrew our space and needed a place to call our own."
The ABSN program now occupies its own suite on the second floor of the building which is fully accessible for students, faculty and staff with disabilities. The space houses two classrooms; one classroom accommodates 30 seats, the other 40. There is an additional classroom which is equipped with seven beds, two sinks and two seating areas and will serve as a clinical skills and simulation lab. Here are some of the features of the new location:
Office, Classrooms and Labs — All Together
Previously, the 'freshmen' class (the new cohort starting in the Fall) was at a basement classroom/lab in Ocean Medical Center while the 'senior' class (the cohort graduating in the Fall) was at the Lakewood campus location with the administration and faculty offices on the other side of the building.
Per Ulak, having the offices, classrooms and lab in one area allows for greater faculty-student interaction. "A private office space allows us to have extra office space for faculty, administrators and students who need a quiet space for testing. As one enters the pod, we have set up an academic resource area with a table, chairs, books and useful information — as well as some candy! This sets the tone that we are serious about being present for our students; they come first."
"With everyone in one location, they have easy access to my office, as I am the main point of contact for the students," said Megan Kushner, assistant program director of the ABSN Program. "My favorite aspect of my job is the trust and understanding I build with the students; they know that they can come to me with anything. So, it's nice that they can simply walk over to my office with their questions and concerns, instead of being six miles away and playing phone and email tag."
"The upperclassmen already popped into the Freshmen class during the first week of school with words of encouragement since they know the first few weeks can be very overwhelming. With the other location, the two cohorts never saw each other!" added Kushner. "It's good for the seniors as well since they can recall how nervous they were those first few weeks of the program and reflect on how far they have come in 14 short months."
New Lab Equipment and More Space to Learn
The large, dedicated lab area allows for students to learn and practice their skill. Previously the students were in one room that encompassed both the classroom and lab with only three hospital beds and practice mannequins to share between 35 students. Now, the rooms are separate, and the lab has new equipment and several beds, so several groups of students can fit at a time.
"The physical resources in the new space are much improved," said Foley. "Plus, the University's IT staff in collaboration with the Brookdale IT staff have updated the internet to be sure it is adequate for all classroom and laboratory need."
The new location has also allowed the College to develop a new relationship with CentraState Healthcare System, which is also in Freehold. "We are planning on having two sections of our Adult 1 clinical course held at CentraState," said Ulak. "Their workforce coordinator has reached out regarding speaking to our students on a variety of topics, such as 'Avoiding Burnout'."
Student Lounge and Study Areas
At the new location there is a dedicated student lounge down the hall from the learning suite, with couches, chairs, tables, several vending machines, and a refrigerator and microwave for student use. "In the previous location, there were not many places students could go for a break," said Kushner. "At the hospital they could perhaps get a seat in the cafeteria, but there was no place for quiet study or for students to gather."
Students are also able to use the student resources located on the first floor of the building, which consists of testing and study rooms, computers, and tables with seating for study groups.
Student Resource Center
The College of Nursing created a small student resource center in the reception area with nursing textbooks, information specific to Seton Hall students, and other general resources they might need. In the previous location, most student resources were not easily accessible to the students. The College continues to provide academic support services, including 24-hour access to the Seton Hall library — both in person and remotely.
Parking
"Campus parking is always tricky – but our new location has ample (and free!) parking for all the students, even when both cohorts are here at the same time," said Kushner.
"The phrase 'it takes a village' is so appropriate because the University and College have supported our program from the beginning, from planning and implementation to reality," said Ulak. "Our new setting has brought our close-knit faculty even closer as we navigate our new setting, and strategize how to best educate our ABSN students. We want to produce the best nurses in New Jersey and this setting provides the improved resources to do so."
About the Second-Degree Accelerated BSN program
This program is a 62-credit B.S.N., which prepares graduates for entry into professional nursing practice. As this program builds on students' non-nursing college education, no previous healthcare experience is required to enroll, though many incoming students have a background in biology, health sciences, or psychology. There's also a lot of academic diversity within the program, with students who previously studied education, business, public policy, and other areas before deciding to pursue nursing.
Students are prepared to provide evidence-based nursing care for patients across the lifespan. Other areas of study include cultural competency and understanding the legal and financial aspects of health care. The College emphasizes hands-on learning through clinical experiences, simulation and in skills labs. Students work in a variety of clinical settings, including hospitals, hospice, nursing homes and community-based agencies.
Graduates are eligible to sit for the NCLEX-R.N. licensing exam.
For those interested in applying, note:
The application for the ABSN program in Freehold opens in November and the deadline for a completed application is April 1.
The application for the ABSN program in Nutley opens in February and the deadline for a completed application is September 1.
For more information, please visit the Second-Degree Accelerated BSN program webpage.
Categories: Health and Medicine