Where You Go Next, Matters. See What's Possible at Seton Hall's Graduate Open House
Wednesday, December 14th, 2022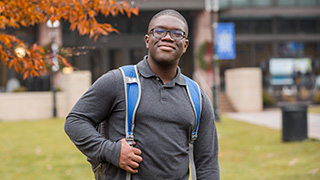 No matter where you are in your academic or professional career, we're all united by a common thread: everyone's journey is unique – an adventure customized to one's interests, passions and goals.
Professional growth is often a part of that journey. In more ways than one, graduate-level education can provide an advanced learning experience like no other – a chance to learn and grow in a safe, but rigorous, academic environment.
This year, Seton Hall University will host its annual Graduate Open House on Saturday, February 25 from 12 - 3:30 p.m. in Bethany Hall on its South Orange campus. This is the perfect opportunity for prospective students to learn about the University's graduate and certificate programs in high demand fields such as business, communication, international relations, education, counseling, healthcare administration, occupational therapy, law, nursing, data science, social work, nonprofit management and more.
Throughout the afternoon, attendees can expect:
An overview of the graduate student experience, including first-hand perspectives from alumni on their time at Seton Hall and how it impacted their careers.
Dedicated breakout sessions on programs, led by College of Arts & Sciences, Stillman School of Business, College of Communication and the Arts, College of Nursing, School of Theology, College of Education and Human Services, School of Health and Medical Sciences, School of Law and the School of Diplomacy and International Relations".
Tours of our beautiful South Orange campus, including the newly renovated University Center – the hub of student life and learning.
Together, these sessions will give attendees opportunities to ask questions about graduate school and learn how Seton Hall's programs can aid their professional and personal growth. Plus, an application fee waiver will be issued to those who attend the Graduate Open House and then subsequently apply to a graduate program.
"Every year, our Graduate Open House affords us the opportunity to engage with anyone who is considering graduate school, regardless of whether they are a seasoned professional looking to advance their career or an undergraduate student looking to continue their education," said Associate Provost for Academic and Graduate Affairs Christopher Cuccia, Ed.D. "Regardless of where one may be in their personal or professional journey, a graduate degree increases an individual's ability to adapt to changing markets, technologies and economic trends, while preparing them to be a lifelong learner."
Attendees can also discover how to financially plan their graduate education and speak with staff about graduate assistantship and scholarship opportunities, including eligibility information for generous University-funded scholarships exclusively for new graduate students. The Career Center will also be available to discuss resources for professional networking, resume building, interviewing and development workshops offered to graduate students.
Undergraduate students already enrolled at the University are also encouraged to attend and explore Seton Hall's dual degree program integrations. By pairing undergraduate and graduate coursework, students can save time and money while coupling their passion with practicality.
Seton Hall University offers more than 130 graduate degrees and certificate programs that are designed for the working professional with night and weekend options. Programs can be taken on a full- or part-time basis, and are offered on-campus, online or in hybrid format.
Discover how Seton Hall can support your interests, goals and objectives and help you take the next step in your professional journey.
Register for Graduate Open House today »
Categories: Education