Seton Hall Sports Poll on Super Bowl Featured in Washington Post, NY Times, USA Today, Forbes and More
Friday, February 5th, 2021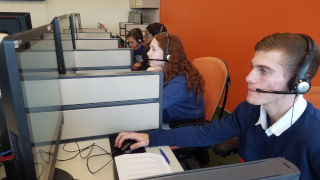 The most recent findings of the Seton Hall Sports Poll were featured in The Washington Post (twice), The New York Times, USA Today (twice), Forbes (twice), Yahoo Finance (in the U.S., New Zealand, Philippines and India), the Miami Herald, Kansas City Star, Sacramento Bee and hundreds of other regional news outlets and radio and TV stations across America.
The poll was also featured on Twitter, with Tweets from Boston Radio Watch, WRAP.org, a public-private partnership based in Washington working to prevent drunk driving and underage drinking, and by sports business analyst Darren Rovell (two million followers).
The poll itself queried the public on matters related to the Super Bowl, including the impact COVID-19 will have on the game and viewership and Super Bowl watch parties; the impact that a coronavirus vaccination might have on indoor and outdoor sporting event attendance; and gambling related to the big game and the rise of legalized sports betting in states across the nation.
Media Highlights
The Washington Post, "Despite pandemic, 25 percent of fans say they will go to Super Bowl parties, poll shows"
The Washington Post, "Superspreader Sunday? Experts worry Super Bowl parties could trigger coronavirus explosion."
New York Times, Morning News Brief, "Super Spreader Sunday?"
USA Today, Poll: Despite pandemic, 25% will attend gatherings to watch Super Bowl 55 between Chiefs, Buccaneers
USA Today, Super Bowl 55, coronavirus pandemic, Biden talks to CBS: 5 things to know this weekend
Forbes, (written by University of Georgia Professor John Drake, Director of the Center for the Ecology of Infectious Diseases) "Will the Super Bowl Be A 'Super Spreader' For Covid-19?"
Forbes, (also written by Professor John Drake) "Super Bowl Parties Could Expose This Many People To SARS-CoV-2"
Yahoo Finance, "Poll: 40% of Americans ready to attend an outdoor sports event after COVID-19" vaccine"
The Athletic, "The Super Bowl TV commercial is an expensive risk or reward, especially in 2021"
Kansas City Star, Charlotte Observer, Miami Herald, Lexington-Herald Leader (Kentucky), The Herald Sun (North Carolina), Modesto Bee, Bellingham Herald and The News Tribune (Washington), The Island Packet (South Carolina), Idaho Statesman, The Telegraph (Georgia), NewsDeal (India), Ledger-Inquirer (Ohio), Belleville News-Democrat (Illinois) and more "How will you watch Bucs-Chiefs Super Bowl? COVID changes viewer habits, polls show."
Twitter
Categories: Arts and Culture