Seton Hall Expands International Partnerships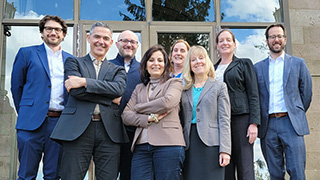 In an effort to expand international cooperation and global engagement, Seton Hall University and the Universita Cattaneo LIUC have formed a partnership designed to facilitate collaboration between the two institutions to drive impactful research, new opportunities for student exchange, faculty led study abroad, and unique experiential learning and summer programs.
The partnership will allow for student and professor exchanges and present opportunities for grant funding and is one of the most recent in a series of internationalization initiatives at the university.
"The continued expansion of international partnerships not only creates new opportunities for research, teaching and other exchanges, but it also extends Seton Hall brand awareness in the international realm" said Katia Passerini, Ph.D., Provost and Executive Vice President. "We want to continue to showcase our strong academic programs and faculty excellence in scholarship and teaching to a global audience."
LIUC University, located in Castellanza in northern Italy, is housed in a 19th-century cotton mill which has been beautifully restored by the world-famous Italian architect Aldo Rossi. The campus is surrounded by over 20 acres of lush parklands and is less than a mile from the train station, about a 30-minute ride to Milan. The university's notable academic programs include Industrial Engineering, Business Administration and International Business, and is known for having many connections with the local economy and local industry. Since the late 1800s, Castellanza has been one of the main industrial centers in the province of Varese. With the beautiful backdrop of the Alps and the famous Italian lakes of Lago Maggiore and Lago di Como, the province of Varese is also home to 23,000 manufacturing and craft industries that export over 30% of their products worldwide and generate employment to approximately 175,000 people. The university is an important example of the tradition for initiative and entrepreneurship in this part of Italy.
Cristina Colombo, Head of the International Office at LIUC observed, "The collaborative efforts of 2 universities will open new pathways for our students to immerse themselves in another culture and benefit from the unique academic offerings and research initiatives in our respective universities. We look forward to growing the partnership and engaging students and faculty in future programs."
Through the partnership, both universities hope to expand their global reach and leverage the unique benefits available at each institution, from high quality academic programs and excellent faculty to proximity to major international urban centers and a variety of partner companies and organizations to engage students in valuable experiential learning opportunities. Our collaboration already involved a panel discussion featuring Stillman School of Business Adjunct Faculty member Robert Cohen, who, along with LIUC Professor Aurelio Ravarini, shared industry experience and insights with LIUC alumni, faculty and staff in a session hosted by Funaro & Co. at the Empire State Building.
Professor Ravarini, whose research is focused on the impact of Artificial Intelligence on the Future of Work looks forward to "meaningful research initiatives in collaboration with faculty from both of our institutions that incorporate international and cultural perspectives with a more global impact."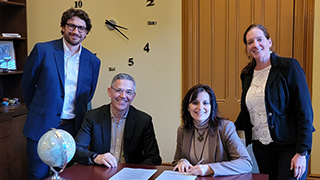 "Extending learning and research far beyond the campus borders provides a wealth of benefits to students and faculty as well as the broader university community. This partnership with LIUC with its emphasis on immersive, real-world experience and problem-solving is emblematic of our goals for internationalization and high impact learning," added Mary Kate Naatus, Assistant Provost of Partnerships.
This partnership, which was formalized with the signing of a MOU on campus this month, is another example of Seton Hall engaging in and being enriched by our global community and global connections. To learn more, contact Mary Kate Naatus at [email protected].
Categories: Education, Nation and World