Seton Hall University Alumni Recognized as Top Attorneys of New Jersey
Thursday, August 31st, 2023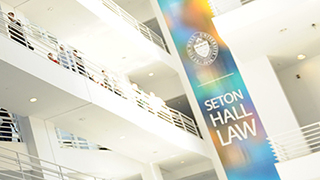 Five distinguished alumni from Seton Hall University have been named to "The Top 50 Attorneys of New Jersey for 2023" by Attorney Intel. The legal industry news and information outlet noted that "This year's awardees practice in various fields including municipal and local government, litigation, labor and employment, healthcare, real estate, insurance, environmental, and more." It also noted that although the Garden State is home to "more engineers and scientists per square mile than anywhere else in the world, New Jersey is also known for their leading and respected law firms."
The recognition of these five distinguished alumni underscores their expertise and the value of a Seton Hall degree.
Kimberly A. Capadona, Esq., '98/J.D. '01: General Counsel, Seton Hall University
Currently serving as the General Counsel at Seton Hall University, Kimberly Capadona has had an impressive trajectory in the legal field spanning two decades. Starting her career at Grotta, Glassman & Hoffman, she then held a pivotal role at McElroy, Deutsch, Mulvaney & Carpenter LLP and was made partner at Archer & Greiner, P.C. Ms. Capadona's academic achievements at Seton Hall include both an undergraduate degree in political science and a J.D. from the School of Law.
Denise Walsh, Esq., '99/J.D. '02: General Counsel, Galway Holdings
Denise Walsh, as the General Counsel of Galway Holdings, has effectively and successfully navigated the complexities of the financial services sector. With her career commencing in 2002, Walsh has held significant positions at EPIC Insurance Brokers & Consultants (EVP and general counsel) and Marcus, Brody, Ford & Kessler, L.L.C . Earlier, she worked with Lowenstein Sandler PC as an associate. Her educational career at Seton Hall resulted in an undergraduate degree in psychology and a J.D. from the School of Law.
Haley Grieco, Esq., J.D. '10: Partner, Hall Booth Smith, P.C.
With expertise in medical malpractice defense litigation, Haley Grieco has been a primary asset at Hall Booth Smith, P.C. She protects the rights of clients in complex and high-exposure cases including catastrophic injury, wrongful diagnosis, misdiagnosis and other liability claims related to medical care. In addition to her legal contributions, Grieco co-founded Lawyers Who Launch, an initiative designed to guide attorneys in professional development. Grieco earned her J.D. from Seton Hall University School of Law. She was named a Rising Star by Super Lawyers in 2020-21.
Geoffrey Castello, Esq., J.D. '95: Partner, Kelley Drye & Warren
With over 25 years in the legal profession, Geoffrey Castello is known as a formidable litigator, compelling advocate and dynamic negotiator. Castello has represented a number of large corporations in complex food, beverage and consumer product false advertising and consumer product and service litigation and class action claims. A U.S. Marine Corp veteran, Castello received his J.D. from Seton Hall University School of Law.
Maureen Cafferty, Esq., '81: Senior Vice President and General Counsel, Springpoint Senior Living
Maureen Cafferty began at Springpoint, a nationally recognized aging services provider, in 1999. She is responsible for analysis of legal and policy issues within the organization relating to development, financing, acquisitions, material contract negotiations, employment law, and healthcare regulatory matters. In her role, she manages the compliance program and the organization's relationships with outside law firms. She also provides advice to the Board on legal matters pertinent to the organization. Earlier in her career, Cafferty was a corporate lawyer at Dechert LLP. She received her Bachelor of Science degree, cum laude, from Seton Hall University, College of Nursing.
Seton Hall University congratulates this year's awardees, distinguished examples of the University's commitment to fostering academic excellence and equipping students to meet and exceed the demands of their respective professions.
Categories: Law