Public Administration Program Ranked #17 in U.S. News and World Report
Seton Hall's Master of Public Administration (M.P.A.) program is moving on up.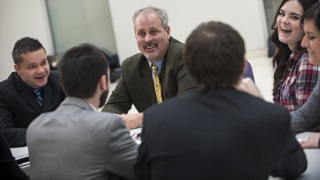 The program was ranked #17 in nonprofit management – up from #18 – in U.S. News and World Report's Best Graduate Schools rankings for 2016. Seton Hall also improved to #115 – from #146 – in overall public affairs rankings.
The M.P.A. program in nonprofit management is currently ranked ahead of Johns Hopkins University, the New School, Carnegie Mellon University, the University of Oregon, Duke University, the University of Pennsylvania and the University of Georgia. It is tied in the rankings with Rutgers Newark, Ohio State University, Cleveland State University, the University of Central Florida and the University of Texas at Austin. M.P.A. Director Dr. Matthew Hale was thrilled with the new ranking, saying, "We are encouraged to see our ranking increase from last year. We think that it is a testimony to the good things that happen when students, alumni and faculty are all working together to improve."
Here are some additional stats about the nonprofit management rankings and where Seton Hall falls within them:
Sixty percent of the institutions on the nonprofit list are large public universities such as Indiana University at Bloomington and the University of Washington.
About 50% of the institutions listed are not departments, but full blown schools.
Six of the institutions on the list (Arizona State University, the University of Central Florida, Ohio State University, Texas A&M University, the University of Minnesota and Indiana University) are in the top ten in terms of total size, each with enrollments of approximately 50,000 students. By comparison, Seton Hall has a total enrollment of just over 10,000.
Seton Hall is the smallest university on the list. After Seton Hall, American University (with about 13,000 total students) is the only other relatively small liberal arts university. The remaining institutions, with the exception of the University of Colorado at Denver (with 18,000 students), enroll at least double the number of total students that Seton Hall enrolls-a fact that Seton Hall M.P.A. student Ashley Manz says makes the recognition even more meaningful. "I have always known the Seton Hall M.P.A. program was world class, but now I can tell my friends that Seton Hall is ranked in the top 20 with other big name schools. It's a really exciting time for our program."
Over the past four years, the M.P.A. program has been working to find new ways to make improvements and grow. This has included revamping courses to reflect changes in technology and effective leadership; for example, former South Orange Mayor Alex Torpey was brought in to teach the core course "Strategic Management of Collaborative Governance." Elective courses have also been expanded to include special topics such as "Chris Christie: The Rise and Fall of the YouTube Governor," "Homeland Security," "Environmental Sustainability and Law" and "Israeli Society, and Politics."
In addition, a fourth M.P.A. concentration in Data Visualization and Analytics, which is a collaboration between the M.P.A. and the Math, Psychology and Computer Science Departments, will be starting in Fall 2016. The M.P.A. program has also recently expanded its "3/2" program to allow top flight undergraduates in political science, sociology and religious studies to receive both a B.A. and M.P.A. degree in five years.
"This ranking speaks to our national reputation and strength in nonprofit management, which is really great. But we are always looking for ways of expanding and improving all of our offerings for students and working to stay on the cutting edge of public and nonprofit management administration," says Dr. Hale.
The M.P.A. program is currently accepting applications for the Fall 2016 semester. More information about the program and its scholarships can be found here »