Law School Alumnus Selected for NJ Supreme Court
Wednesday, May 17th, 2023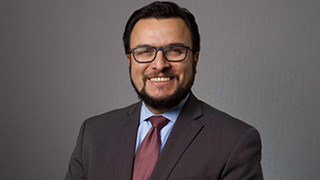 Seton Hall Alumnus and Adjunct Professor Michael Noriega
Michael Noriega, highly esteemed Seton Hall Law School alumnus and adjunct professor, was selected by New Jersey Governor Phil Murphy to serve as an Associate Justice for the New Jersey Supreme Court. The announcement to appoint Noriega to replace Associate Justice Albin, who reached the mandatory retirement age of 70 in July 2022, was made during a special press conference held on May 15 at the Statehouse in Trenton.
"I know that the individuals who are selected to serve on the New Jersey Supreme Court will shape our state for decades to come," said Governor Murphy. "As a former public defender and one of New Jersey's most respected criminal defense and immigration law attorneys, Michael Noriega will bring extensive trial experience and a career path throughout our legal system to the judiciary. In addition to his professional profile, Michael's character, integrity and commitment to serving the cause of justice make him the best choice to serve on our state's highest court."
The nomination will first be submitted to the Judicial and Prosecutorial Appointments Committee of the New Jersey State Bar Association for approval. Then, the governor will proceed with a formal appointment, subject to the advice and approval of the state Senate.
"Michael Noriega is a cherished Seton Hall alumnus and a beloved adjunct professor at Seton Hall Law, most recently teaching our required Appellate Advocacy course. His willingness to generously share his knowledge with our community has benefitted our students immeasurably. We are, in addition, extremely proud of his tireless work on behalf of the immigrant population in New Jersey. It is wonderful that his values and intellect can now find a home on the state's highest court," said John Kip Cornwell, Interim Dean and Professor of Law, Seton Hall Law School.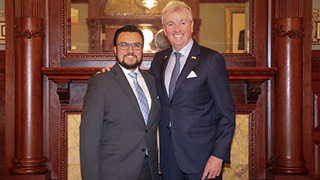 Michael Noriega was announced by Gov. Phil Murphy as a state Supreme Court nominee.
"There are no words that can fully express the enormous privilege of being nominated to serve on the New Jersey Supreme Court," said Noriega. "Our Supreme Court has received national recognition for its intellectual rigor and forward-thinking decisions, and I pledge to do everything I can to continue that long and historic tradition. I would like to thank Governor Murphy for this incredible honor and consideration, as well as my family, friends and colleagues who have shaped my life and career."
Currently, Noriega serves as a partner at Bramnick, Rodriguez, Grabas, Arnold & Mangan, LLC, where he has worked since 2014. He is a highly accomplished immigration and criminal defense attorney who has fought for the rights of documented and undocumented residents living in New Jersey, helping them navigate the complex maze of federal immigration laws and interaction with state and municipal laws. At the firm, he handles cases involving deportation defense, asylum, immigrant visas, green card applications, and temporary protected status, as well as cases involving the intersection of immigration law with criminal, labor, business, and family law; At the same time, he handles personal injury cases for the firm.
Prior to joining Bramnick, Rodriguez, Grabas, Arnold & Mangan, LLC, Noriega ran his own law firm, Noriega & Associates, over the course of six years, where he practiced immigration and criminal law. During that time, he served clients in cities such as Newark, Plainfield, Paterson, Elizabeth, Jersey City, Union City, and Camden. He also provided pro bono counseling to Kids in Need of Defense, an organization that represents indigent clients and minors who have been victims of human trafficking and face deportation proceedings.
Before starting his own law firm, Noriega served as an Assistant Public Defender in the Essex County Adult Trial Region from 2003 to 2008. During his time as a public defender, he handled hundreds of cases involving a variety of criminal defense charges and tried more than 25 jury trials. Since leaving the Public Defender's Office, Noriega has argued more than a half-dozen cases before the Appellate Division and two cases before the New Jersey Supreme Court.
Noriega is licensed to practice law in New Jersey and New York, as well as in the United States District Court for the District of New Jersey, the United States Court of Appeals for the Third Circuit, and the United States Supreme Court. He is fluent in English, Spanish, and Portuguese and has years of experience helping non-English speaking clients with legal matters.
He is a member of the New Jersey State Bar Association, New Jersey Chapter of the American Immigration Lawyers Association, the Hispanic Bar Association of New Jersey and the Union County Bar Association. In addition to serving as an adjunct professor at Seton Hall Law School for eight years, Noriega serves as president-elect of the New Jersey Association of Criminal Defense Lawyers. In 2019, the New Jersey State Bar Association honored him as Professional Lawyer of the Year. That same year, he also received the ACLU-NJ Legal Leadership Award. In 2023, the New Jersey State Bar Association also awarded him the Distinguished Legislative Service Award.
Noriega was born in Weehawken to Peruvian immigrants and raised in Union City. He graduated from St. Peter's Prep in 1995, from Rutgers University with a Bachelor of Science in American Studies in 1999 and from Seton Hall Law School in 2002. After law school, he served as a law clerk for the Honorable Camille M. Kenny, Superior Court Judge, Civil Division, in Hudson County.
He lives in Fanwood with his wife, Melissa, and their four daughters, Emma, Abigail, Rebecca and Kathryn. Currently, he serves as chairman of the board of the Sanar Wellness Institute, a nonprofit organization in Newark that provides care and support to individuals who have experienced traumatic events of interpersonal violence.
"Michael has dedicated his professional life to serving some of our most vulnerable members of society, especially immigrants who are unfamiliar with our complex legal system," said Lt. Gov. Sheila Oliver. "The New Jersey Supreme Court has a sacred responsibility as the last layer of protection for the rights of New Jersey residents. I know Michael will bring his unique perspective and experiences to continue that historic tradition."
With respect to his selection, Noriega added, "It is with great humility and a deep sense of responsibility that I stand before you today honored to accept the nomination for the position of Associate Justice of the New Jersey Supreme Court." He added, "I pray and hope that I have had a sincere positive impact on our legal system and the lives of the people that I have represented over these past 20 years. But now, my commitment is to all of the people of New Jersey, as I bring to bear my knowledge and experience to help shoulder this enormous responsibility I am honored to undertake. And it is with that in mind that I accept this nomination, with humility and pride."
Photos: Courtesy of Governor Murphy's Office.
Categories: Law