Division of Volunteer Effort Hosts Annual Toy Drive
Thursday, November 17th, 2022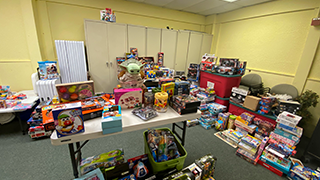 The Christmas season is upon us, and Seton Hall's Division of Volunteer Efforts (DOVE) is once again offering ways that you can help make the holidays a little brighter for those in utmost need.
DOVE's annual toy drive provides gifts to the Maplewood South Orange School District, the Don Bosco Youth Center, and several schools and agencies in Newark. In addition to local sites, DOVE donates gifts for the impoverished children in Appalachia, West Virginia, which they have done for over 25 years. Many of these children may not have received a Christmas gift if not for DOVE's donations. The gifts will be delivered by DOVE staff and volunteers.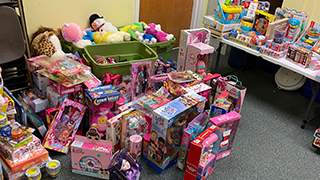 Seton Hall students, employees, and alumni are encouraged to get involved by taking a "toy tag" from DOVE. Each toy tag includes a child's name and his or her Christmas wish list. This year's wish lists include puzzles, board games, crafts, indoor/outdoor active games, and LEGO blocks. Students who take a toy tag should shop for the child based on what is written on the tag and bring their unwrapped gifts back to the DOVE office, located in Campus Ministry Boland Hall 108, by December 9.
On December 13, DOVE will host a toy wrapping party to help sort, wrap, and deliver the gifts. The drive is always a huge success and a phenomenal way to start the Christmas season. All students are welcome to participate as this is the last opportunity to get service hours for the semester.
Categories: Campus Life