Destress over Spring Break with Leisure Reading
Monday, February 27th, 2023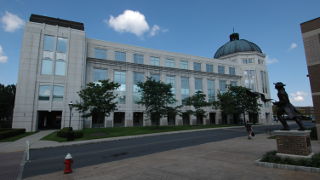 Get ready for spring break by taking out a book from the library's leisure collection. Located on the second floor of the Walsh Library, there are many shelves with great books for in-house browsing and check out with a Seton Hall ID card. Since this past August, 160 current New York Times bestsellers have been added ranging from new memoirs to bestselling fiction novels. They are perfect for a long trip home, a staycation near campus, or anything in between.
Emily Montanez, a junior Social Work major and student worker at the library helped launch the collection by surveying students, faculty, and alumni. The library is very grateful for Emily's many efforts to grow the collection and gather student suggestions.
Walsh Library wants to join campus initiatives to focus on student, staff and faculty mental health and provide a collection for leisure activities. Librarian Lisa Thornton says "as both a faculty member and a current student at SHU, I relate to how important it is to find balance between work, school, and time to mentally recharge. The Leisure Collection at Walsh Library makes it easy for students and faculty to remember the joy of recreational reading."
Since the launch of the collection students have been able to check out more than just academic books. It includes classics like Upton Sinclair's The Jungle, favorites like Stephen King's Pet Sematary, and several titles by TikTok sensation Colleen Hoover.
Librarian David Frank commented "the Leisure Collection is a great supplement to our Main Collection. You can find contemporary and classic literature from both acclaimed and emerging authors, new non-fiction offering fresh perspectives on current issues. New ideas and new voices."
Need a recommendation? Here are the top three books taken check out from the collection last semester:
1. The Jungle by Upton Sinclair
2. Angels & Demons by Dan Brown
3. Educated: a Memoir by Tara Westover
If you would like to recommend a title for the collection, please email Emily Montanez or DM us on Instagram.
Staff and faculty can also find faculty publications and self-help books in the Counseling & Psychological Service (CAPS) Collection. Additionally, the Wellness Room is a private space designed to help improve the mental health and well-being of SHU students on the 4th Floor of the library. Funded by the Great Minds Dare to Care grant, a university-wide collaborative suicide prevention initiative focused on student wellness and mental health, this room offers a calming opportunity to unplug, recenter, and practice mindfulness when feeling stressed.
Students who are on campus during Spring Break can visit the library or the Wellness Room Monday, March 6 through Friday, March 10 from 8 a.m. to 5 p.m. The library is closed March 4,5 & 11. It reopens Sunday, March 12 at 11 a.m.
Categories: Arts and Culture, Education