Walsh Gallery and Alberto Italian Studies Institute present "Currency, Culture and the Ron D'Argenio Collection of Coins and Antiquities"
Thursday, September 8th, 2022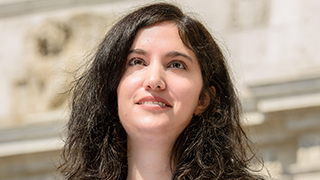 Caterina Agostini, Ph.D.
The Walsh Gallery, in partnership with The Charles and Joan Alberto Italian Studies Institute, presents a talk by scholar Caterina Agostini Ph.D., illuminating the role coins play in shaping our perceptions and experiences of cultures, economies and societies. Agostini, of Notre Dame University, is the inaugural D'Argenio Fellow in History and Data Visualization, awarded to outstanding scholars that use alumnus Ron D'Argenio's (MS '76, JD '79) collection of Greco-Roman and Byzantine coins and artifacts as the basis for original research in the classics and humanities. D'Argenio donated this extraordinary collection – which portrays the arc of European history from the Greek city-states to the Hellenistic kingdoms, the Roman Republic and Empire, and the Byzantine Empire - to Seton Hall in 2001. This event takes place on the evening of Monday, September 19th from 6pm to 7:30pm in the Beck Rooms, located on the first floor of the University Libraries. To register, please visit the link here.
Agostini's interdisciplinary research uses coins, artworks, and archival materials to generate new interpretative strategies using innovative digital humanities and data visualization tools to highlight her original research as well as D'Argenio's collection. She includes examples from Renaissance art fused with digital cultural heritage to support her research. Agostini is currently a Postdoctoral Research Associate at the University of Notre Dame's Navari Family Center for Digital Scholarship & John J. Reilly Center for Science, Technology, and Values. She was previously a Postdoctoral Associate at The Edison Papers at Rutgers University, and the Project Manager at The Center for Digital Humanities at Princeton University. She has taught Italian cultural studies, digital humanities, and the history of science at Rutgers, Princeton, and North Carolina State University. Caterina earned her Ph.D. from Rutgers University (2021), where she specialized in early modern science and medical humanities, and she received the Rutgers School of Graduate Studies award in Excellence in Outreach and Service. She has published research on Galileo and the history of science, cultural heritage, and digital methods with Galilaeana, Palgrave Macmillan, Cambridge Scholars, Interdisciplinary Digital Engagement in Arts & Humanities, and La parola del testo, and she has forthcoming work with the University of Chicago.
Seton Hall University's beautiful main campus is located in suburban South Orange, New Jersey, and is only 14 miles from New York City — offering students a wealth of employment, internship, cultural and entertainment opportunities. Seton Hall's nationally recognized School of Law is prominently located in downtown Newark. The University's Interprofessional Health Sciences (IHS) campus in Clifton and Nutley, N.J. houses Seton Hall's College of Nursing and School of Health and Medical Sciences as well as the Hackensack Meridian School of Medicine at Seton Hall University. The Walsh Gallery, located on the first floor of the Walsh Library is open 9am to 5pm, Monday—Friday. Groups of 8 or more must register in advance. Admission to the gallery and its programs is free and open to the public.
Categories: Arts and Culture, Research