Shaheen Holloway '00 Named 'Best Hire' by College Coaching Peers
Thursday, September 8th, 2022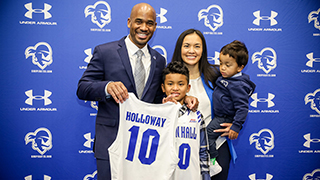 Coach Holloway and family at his introductory press conference.
Seton Hall University men's basketball Head Coach Shaheen Holloway '00 was named the "best head-coaching hire in 2022" in a nationwide survey conducted by CBS Sports of his coaching peers.
CBS Sports college basketball journalists Gary Parrish and Matt Norlander surveyed roughly 100 coaches for their annual "Candid Coaches" series. They polled everyone from head coaches at elite programs to assistants at some of the smallest Division I schools. Responses were anonymous, allowing the coaches to provide unfiltered honesty.
Coach Holloway narrowly edged out other high-profile basketball coaching hires of the past offseason with 15% of the vote over institutions such as Duke University, University of Maryland, Xavier University, Butler University, University of Louisville and University of Florida.
Some of the anonymous quotes by coaches regarding Holloway included: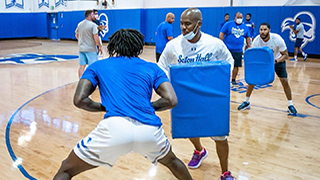 Coach Holloway practicing with a student-athlete.
"I'm always for a program hiring an alum -- especially someone with proven success. He loves that place, that community loves him. He has the charisma for the position. Outstanding hire."
"Heading back to his alma mater, where he is beloved and knows the lay of the land, especially recruiting wise. Résumé was built on doing more with less -- and (he) accomplished at Saint Peter's what will never be done again. Also, a really good human being."
The Seton Hall Pirates tip-off their 2022-23 season at the Prudential Center starting Wednesday, Nov. 9. See schedule.
Season tickets for men's basketball represent the best possible value to watch the Pirates. Season ticket holders get the best seats, receive access to exclusive events and access to BIG EAST Tournament tickets. If interested, please fill out the season tickets interest form.
Student season tickets are currently on sale for active Seton Hall University students.
Categories: Athletics