Celebrating Lunar New Year 2022, The Year of the Tiger
Thursday, January 27th, 2022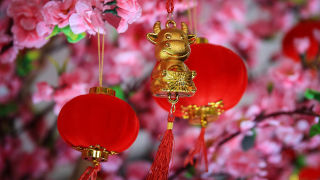 February 1 marks the beginning of Lunar New Year -- Chinese Chunjie, Vietnamese Tet, Korean Solnal, Tibetan Losar, and Spring Festival, which celebrates the arrival of the new year in Asia and ends 15 days later with the first full moon. 2022 is the Year of the Tiger. In Chinese culture, tigers are known to be vigorous and ambitious, daring and courageous, enthusiastic and generous, self-confident with a sense of justice, and a commitment to help others for the greater good.
On Sunday, January 23, Seton Hall University partnered with South Orange Maplewood Cross Cultural Works to sponsor Lunar Fest NJ 2022 at The Woodland in Maplewood, N.J. More than 500 community members gathered for an exciting afternoon of performances, including a lion dance from United East Athletics Association, traditional Korean dances from Woorigarak Korean Cultural Art Center, traditional Korean music from Jung-Hee Oh, shadow puppetry from Chinese Theatre Works, traditional Chinese dances from New York Chinese Cultural Center. Local food vendors, including Ms. Fu's Yummy Food Truck and Sonny's Indian Kitchen, served homemade, traditional Asian cuisine.
Dr. Monica Burnette, Vice President of Student Services and co-chair of the Diversity, Equity and Inclusion Committee, spoke at the event sharing, "I'm honored to serve as the first Asian-American Vice President of Student Services at Seton Hall, and also a proud member of the South Orange Maplewood community. As part of our Strategic Plan, our DEI Committee aims to educate and empower community members to advance diversity, equity, inclusion, and social justice on campus and in the wider world. A part of that goal includes fostering and cultivating partnerships within our community. We thank SOMA CCW for once again inviting Seton Hall University to sponsor Lunar Fest NJ this year."
Additional Local Lunar New Year Celebrations
Saturdays from January 29 – February 13- The New York Chinese Cultural Center (Hudson Yards, New York City)
Saturday, January 29 at 10 a.m. – Metropolitan Museum of Art Virtual Program
Saturday, January 29 at 7:30 p.m. – New Jersey Symphony (New Jersey Performing Arts Center in Newark)
Saturday, Saturday, February 5 from 3-5 p.m. – Brooklyn Conservatory of Music (New York, NY)
Beginning Tuesday, February 1 at noon – Flushing Council on Culture and the Arts (FCCA) (Flushing, NY)
February 1 at 4 p.m. – Reeves-Reed Arboretum (Summit, New Jersey)
Saturday, February 12 at 1 p.m. – Liberty Hall Museum (Union, New Jersey)
Saturday, February 12 at 1 p.m. - Chinatown Lunar New Year Parade & Festival (New York, New York)
Check out the Museum of Chinese in America (New York, NY)
Continue to check the University Calendar for additional Diversity, Equity & Inclusion Events.
If you are interested in helping to plan Asian American Pacific Islander (AAPI) Month in May 2022, please fill out our interest form or email [email protected].
Categories: Arts and Culture