9th Annual Faculty Talent Show: Virtual Edition
Tuesday, April 14th, 2020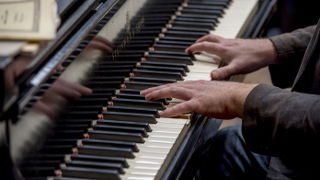 While we wait for the live event (which will be rescheduled for the fall), the 9th annual Faculty Talent Show: Virtual Edition, will take place in Microsoft Teams on Thursday, April 23, 7:00–8:30 p.m.
Join us for a display of talent from across the university — faculty, staff, students — that is sure to raise your spirits! The show will feature both new performers and annual favorites. The virtual format will present new challenges, but will also allow for some interesting collaborations.
Mark your calendar and join us via Microsoft Teams »
If you would like to perform, contact Mary Balkun at [email protected] and Deb Zinicola at [email protected].
Categories: Campus Life